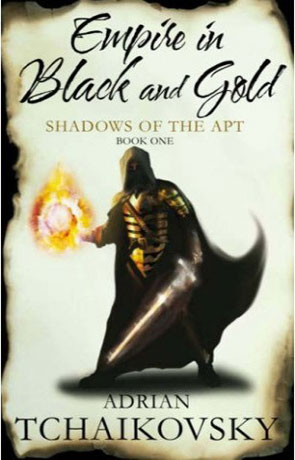 Book details
Empire in Black and Gold

Series:

Shadows of the Apt

Publisher:

ISBN:

Published:

July 2008

Pages:

612

Format reviewed:

Paperback

Review date:

16/09/2008

Language:

English

Age Range:

N/A
Books in the series
About the author
Empire in Black and Gold is the first novel in the Shadows of the Apt series written by Adrian Tchaikovsky.

Seventeen years ago the Wasp Empire stormed the city of Myna as part of their war of conquest. Witness to this savage ferocity was Stenwold and since that time he has been training agents to fight the Wasp advance and has preached against this threat.

Now the Empire is marching toward the Lowlands and his home city of Collegium lies directly in the path.

When his home is attacked he regroups with his recruits in Helleron, the next city in line for the Wasp advance.

Empire in black and gold could be at a glance be mistaken for standard fantasy fare, it isn't. Although it is a little slow going and clunky to begin with (as many series are) the novel has a well balanced blend of character, action and intrigue. Adrian creates a well defined world around which the story is set and introduces a very unusual race in the "Kindren", insects with human traits.

As the story progresses the pace picks up and the tension begins to build, it is a sign of a good author when you begin to feel aprehensive about the characters being harmed, and Adrian accomplished this feat very well.

Overall this is a very well balanced, intelligent novel that is different enough to be new and fresh and very rewarding.
Written on 16th September 2008 by Ant .
You may also like