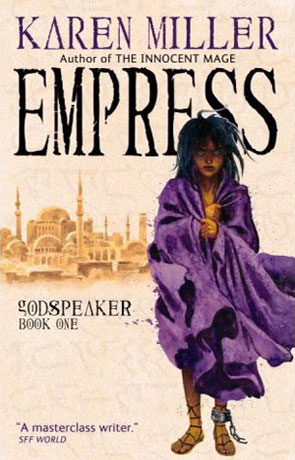 Book details
Empress

Series:

Godspeaker

Publisher:

ISBN:

Published:

June 2007

Pages:

688

Format reviewed:

Paperback

Review date:

12/03/2009

Language:

English

Age Range:

N/A
Books in the series
About the author
Empress is the first volume in the Godspeaker trilogy, written by Australian author Karren Miller.

Hekat is a girl treated worse than a slave with a violent father who beats her mother and rapes her repeatedly on the insistence that she should give him more sons. Not even named, she is eventually sold to a slave trader called Abajai and they begin their journey to Abajai's homeland, Et-Raklion city in the land of Mijak.

On the journey one of the traders refers to her as a "little hell cat" and she decides to call herself Hekat. One of the traders appreciates her worth and begins plans to educate her and raise her as a courtesan and then get a very big price when he sells her. As you might expect events don't go as planned and Hekat's journey takes unexpected turns.

Karen Millers style is an unusual one, an omnipresent deity who enjoys a great deal of bloodshed and a protagonist who is not very likable and becomes more despised the further the story goes. There is a great deal of emphasis placed on the principal religion and the peoples formal, structured dialect, which does detract from the main plot elements.

Interesting read, but somewhat labored towards the end.
Written on 12th March 2009 by Ant .
You may also like