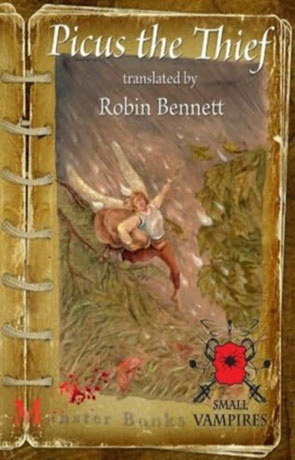 Book details
Picus the Thief

Publisher:

ISBN:

9780956868404

Published:

July 2011

Pages:

236

Format reviewed:

Hardback

Review date:

14/11/2011

Language:

English

Age Range:

N/A
Picus is one of those people who act as a magnet for trouble, disowned by his parents (or at least his quite scary mother) for not being blood-thirsty enough, hunted by the violent vampire Raben for the theft of an item that wasn't really his and wanted by the leader of the faie Queen Mab (the tooth fairy) who would love to add his teeth to her collection.

As if that wasn't enough he's been recruited by the Eltern (a powerful vampire clan) to steal the famed and mystical sword Exkylipyr from the hands of the human's in Angleland.

This novel harks back to those simpler and more innocent times, a wonderfully written story that takes folklore, myth and more than a little authurian legend and creates a vibrant, rich world where vampires, fairies, wights and trolls exist right beneath our feet. At times this innocence reminded me of Enid Blyton's Faraway Tree series (my first memories of encounters with the fantastic) but told as a more modern and adult adventure and written in a clear, and easy to read prose. At the same time it also feels like a breath of fresh air, managing to project a positive and downright cheerful voice without coming across as twee or condescending.

Aimed at the young adult market, the world building is incredible and it's almost impossible not to become immersed in this fantastically realised world of charm and grandeur. The characters are just as lively too, Picus is brilliant as a small but almost indestructible, irrepressible vampire thief who throws himself head first at life's little adventures. The supporting cast are just as colourful too, as are the myriad different creatures that inhabit this hidden world. The story is spellbinding while the plot zips along faster than a dragonfly with a jetpack, there is no wasted space and as such the short chapters do create a nice breather between scenes.

The way that the author manages to bring back the simple wonder of the faerie mythology and folklore; recreating them for the 21st century and combining them with the disparate vampire mysticism is just brilliant, even going as far as informing the reader that he is simply the translator of original texts.

I loved this book, not only as it reminded me of that innocence of my formative years but for the effortless pleasure that reading the novel bestows, simply magical.
Written on 14th November 2011 by Ant .
You may also like