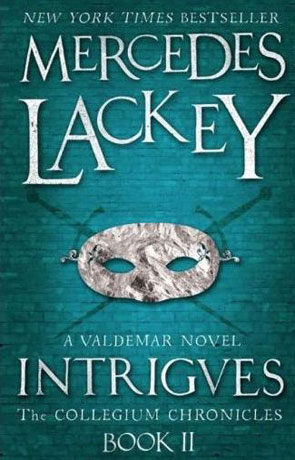 Book details
Intrigues

Series:

The Collegium Chronicles

Publisher:

ISBN:

9781781165874

Published:

October 2012

Pages:

368

Format reviewed:

Paperback

Review date:

27/12/2012

Language:

English

Age Range:

N/A
Books in the series
About the author
Intrigues is the second book in the Collegium Chronicles, following the trainee Herald Mags who we first met in Foundation, situated within the realm of Valdemar. Foundation set the scene pretty well and allowed us to learn about Mags and the Heralds college, I was struck by the quality of the prose and the warm friendly voice.
As with Foundation this novel is being reviewed without any prior knowledge of the authors other works that have been set within Valdemar, of which there are many.
Intrigues moves you back within this comfort right away and it feels like a seamless continuation of the story, helped by a minimal approach to bringing the reader up to speed and a welcoming lack of back story. You would then expect the plot to move forward at a pretty fast rate of knots however it doesn't, instead it meanders following the minutae of Mags life around the college for the most part - which I guess is the story as much as the over-arching plot is. As a result it feels very much like that other series of gifted but under-privileged boy in a special school and I was reminded of the similarity much more than I was in Foundation.
So you need to enjoy this book as much for the journey as the destination and if you do then you will really enjoy it. The author's incredible talent to write compelling narrative is firmly on show and the book really does grip you pretty much right away, the prose is just so well written.
I do like the way this series is progressing but I must admit that after finishing Intrigues I hope the author injects a bit more story into the next two novels as there is only so much reading about gifted children in school setting I can take before I get fed up (and yes HP did do that too).
I am very much looking forward to the next two novels in the series and can't wait to see how the story develops. You don't need to have read any other of the authors novels to appreciate Intrigues, although if you haven't read Foundation it makes sense to read that first. Anyone who did enjoy Foundation should like Intrigues just as much, recommended.
Written on 27th December 2012 by Ant .
You may also like