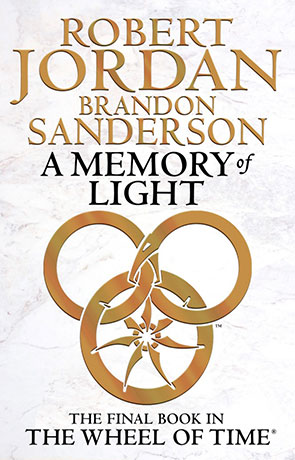 Book details
A Memory of Light

Series:

The Wheel of Time

Publisher:

ISBN:

9781841498720

Published:

January 2013

Pages:

912

Format reviewed:

Hardback

Review date:

07/04/2015

Language:

English

Age Range:

15-
Books in the series
About the author
And it came to pass in those days, as it had come before and would come again, that the Dark lay heavy on the land and weighed down the hearts of men, and the green things failed, and hope died.
For those who have been following the journey of Jordans' epic fantasy series, reaching this book will likely feel bittersweet. The first book — The Eye of the World — was published over 25 years ago, a quarter of a century. I actually bought A Memory of Light the day came out at the beginning of 2013 however it's taken me till now to get a chance to read the huge, weighty thing. Mostly this delay was caused by the continued mountainous pile of reviews to be read. Also though having read the previous 13 books Wheel of Time - over 10,000 pages, in many ways I didn't want the journey to end.
After all that investment in time and energy there isn't any way that a review of the final novel could be in any way impartial, I can however tell you that A Memory of Light doesn't disappoint. It is a superb ending and manages to wrap everything up without feeling rushed or forced.
All of the main characters get sufficient time and some don't even make it to the end. It doesn't pull any punches at all — a criticism leveled at Jordan in the past was that he kept his favorite characters too safe but at the end this rule is thrown out the window. There are a number of surprises in store and despite the ending being a foregone conclusion the book keeps you guessing most of the way through.
As you might expect there are more action sequences and battles than in most of the previous books combined however there is still plenty of time taken for the little touches and smaller, character-driven scenes. Ultimately, as it has been the whole way through The Wheel of Time, it is the struggle between Good and Evil and the importance that both sides play to create a balance that lies at the heart of the series. In A Memory of Light it is summed up succinctly and as effectively as is possible.
I think that Brandon Sanderson has done a remarkable job in completing Jordans' work. A Memory of Light is a perfectly fitting end to one of the biggest fantasy series ever imagined, Epic in every sense of the word.
Written on 7th April 2015 by Ant .
You may also like