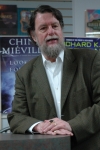 Robert Jordan was actually a pen name of the late James Oliver Rigney, Jr and is best known for his long running (11 books) and acclaimed series: The Wheel of Time.
Robert was born in the USA state of South Carolina, in a town called Charlestown. He served with the United States Army as a helicopter gunner during the Vietnam War (between 1968 and 1970).
Robert was distinguished with several medals during his two tours of Veitnam including the Bronze Star with "V" and bronze oak leaf cluster, two Vietnamese Gallantry Crosses with palms and the Distinguished Flying Cross with bronze oak leaf cluster.
After completing his tours, Robert studied an undergraduate degree in physics at the Citadel and after graduating, was employed by the US Navy as a nuclear engineer.
Robert was an avid historian and enjoyed hunting, fishing, sailing, poker, chess, pool, and pipe collecting.
He married his editor, Harriet McDougal, and lived in a house built over 200 years ago (in 1797).
Robert announced in early 2006 that he had been diagnosed with cardiac amyloidosis, and with treatment, was expected to live for about 4 years. Robert advised he intented to beat that estimate, posting an announcement to his fans on his official website Dragonmount that he fully expected to continue writing for another 30 years.
Robert Jordan died on the 16th September 2007.
Bibliography
The Wheel of Time Series

Conan The Barbarian

Conan the Invincible
Conan the Defender
Conan the Unconquered
Conan the Triumphant
Conan the Magnificent
Conan the Destroyer
Conan the Victorious
The Conan Chronicles
The Conan Chronicles 2

Fallon (as Reagan O'Neal)

The Fallon Blood
The Fallon Pride
The Fallon Legacy