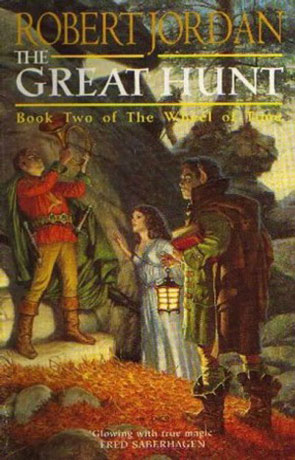 Book details
The Great Hunt

Series:

The Wheel of Time

Publisher:

ISBN:

Published:

June 1992

Pages:

718

Format reviewed:

Paperback

Review date:

01/12/2009

Language:

English

Age Range:

N/A
Books in the series
About the author
For centuries traveling gleemen have told the tales of The Great Hunt of the Horn. So many tales about each of the Hunters, and so many Hunters to tell of . . .

Now the Horn itself is found: the Horn of Valere long thought only legend, the Horn which will raise the dead heroes of the ages.

Rand al'Thor, the farmboy who is thought to be the Dragon Reborn — the leader long prophesied who will save the world, but in the saving destroy it; the savior who will run mad and kill all those dearest to him— refuses to accept his fate. Even facing the dreaded Amrylin, the leader of the Aes Sedai who may intend to "gentle" him, Rand fiercely denies his Power. He will have none of it — no matter what Myrddraal and Trollocs, Aes Sedai and dreams stand in his way.

But with the Horn another object is stolen: a dagger from the terrible ruins of Shadar Logoth. Unless the dagger is recovered, Mat Cauthon's life will end. And Mat is Rand's oldest friend. Unwillingly, distrusting everyone, Rand is drawn into the Hunt.

As Egwene, the innkeeper's lovely daughter, and Nynaeve, the young village Wisdom, set out for Tar Valon's White Tower, seat of the Aes Sedai, Rand and the ogier Loial, accompanied by Perrin Aybara, the Wolfbrother who was once a blacksmith, track the Horn and dagger through Shienar — and enter a world stranger than time itself. But Rand cannot escape his Power. The Dark One is stirring in Shayol Ghul. The Dark One wants the Horn. The Dark One wants Rand.

This second volume in the Wheel of time series really builds on its predecessor with plenty of plot twists and more insight into the world and its factions. Again this book ends dramatically really making you want to start reading the third volume (The Dragon Reborn) right away.
Written on 1st December 2009 by Ant .
You may also like