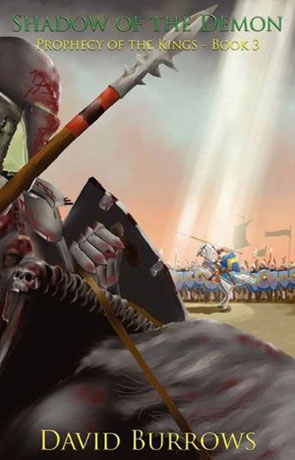 Book details
Shadow of the Demon

Series:

Prophecy of the Kings

Publisher:

ISBN:

Published:

February 2010

Pages:

238

Format reviewed:

Paperback

Review date:

07/04/2010

Language:

English

Age Range:

N/A
Books in the series
About the author
Shadow of the Demon is the third and final novel in the Prophecy of the Kings trilogy by David Burrows.

Kaplyn, Lars, Lomar and the brave defenders of Thrace have earned a respite from the horrors of the war they find thrust upon them. The Seige was only the start though and they must now find out just what lies in store for the kingdom, and if the evil sorceror Drachar has indeed returned. It isn't long before news arrives of an army massing at Trosgarth, which means the enemy must be readying themselves for the return of their dread leader and the legions of Demon spawn that will follow in his wake.

Kaplyn and his trusted friends must travel deep into the enemies territory in order to rescue the seed from the tree of life and prevent a permanent Demon gate from being created.

Throughout the prophecy of the Kings series I have been impressed by the high quality of the prose, the excellent character building and the easy but gripping style of the narrative. Shadow of the Demon is no exception, there is a real sense of the dramatic in this concluding volume and the unique individual style becomes even more pronounced. The pace is spot on and the plot full of twists and turns that keep you on your toes and makes the pages flow through your hands as you hasten to seek the conclusion to the story.

The characters and their development remain the core focus of the novel, largely the protagonist Kaplyn and his continued magical anomalies. The ending of the story is quite exceptional, poignant and more than a little bittersweet.

Shadow of the Demon is triumph of high fantasy, a rich, rewarding end to a phenomenal series and should not be missed.
Written on 7th April 2010 by Ant .
You may also like