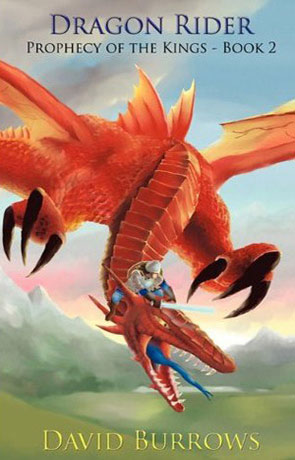 Book details
Dragon Rider

Series:

Prophecy of the Kings

Publisher:

ISBN:

Published:

February 2010

Pages:

232

Format reviewed:

Paperback

Review date:

30/03/2010

Language:

English

Age Range:

N/A
Books in the series
About the author
Dragon Rider is the second novel is the Prophecy of the Kings series, written by David Burrows.

After the climatic cliff hanger at the end of Legacy of the Eldric, we find our intrepid adventurers return to a world that has changed without them. War now threatens the land and Nations who once had strong alliances are now deadly rivals while drought and famine spread throughout the land.

Kaplyn, Lars and Lomar escape the cave that has been their home for longer than they could possibly realise and head to the capital of what was once Allund's ally, Thrace. Upon arrival though they are all arrested and accused of being spy's for the Army of Allund which are descending on the city. To make matters worse there is also another army on their way, this one composed of Krell, Grakyn and humans from Trosgarth but are they allied with the Allund?.

Dragon Rider introduces a darker mood to the series and a stronger sense of individual style, a slight departure from the tolkienesque feel with a distinct flavour all it's own (although I am sometimes reminded of Robin Hobbs Farseer series). The land and the people are in serious trouble while the evil Krell and Grakyn become bolder and more aggressive. There is some very strong character development, with all the principal protagonists reacting and changing to their own adversity while some of the new characters are instantly likable (like the young powerful mage Astalus). At the same time the group's friendship continues to grow while the new party member Turmarl is an strong character with a dark, tortured soul and the passion of a beserker.

The plot itself moves forward quickly and keeps the pages turning, one of the real strengths of this series is the emphasis on plot and character development with less time spent on the long background, world building that can sometimes stall the flow of the narrative. There are enough twists and turns to keep the interest and as with Legacy of the Eldric, the novel is very well written with a flowing script that is both refreshing and easy to read.

Dragon Rider manages to achieve the difficult task of improving on it's predecessor (no mean task) with a sweeping tale of high fantasy that will keep you hooked until the very last page.
Written on 30th March 2010 by Ant .
You may also like