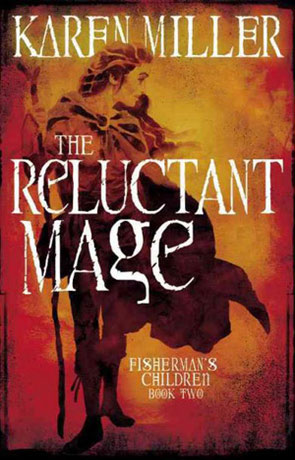 Book details
The Reluctant Mage

Series:

Fisherman's Children

Publisher:

ISBN:

9781841497853

Published:

July 2010

Pages:

544

Format reviewed:

Hardback

Review date:

21/09/2010

Language:

English

Age Range:

N/A
Books in the series
About the author
The Reluctant Mage is the second volume in the Fisherman's Children series by Karen Miller.

Rafel has been gone for months, last seen heading over Barl's Mountains into the unknown in a desperate quest to find help in the legendary magical Library but such time has passed and all hope appears lost. Only Rafel's sister Deenie still believes he is still alive and she senses him in her fevered dreams. She knows that she must seek him out as his magic is the only hope of healing the tortured lands.

To find Rafel means crossing the lands beyond Lur, lands that have been twisted by chaos and lawlessness, filled with the dark sorcerer Morg's deadly legacy. To make matters worse a new power is awake in the land and Deenie suspects that not only is Rafel involved but the evil their father Asher the Mage destroyed may have somehow returned.

The Reluctant Mage is the second volume in the series and after reading this book, I do recommend reading the first volume in the series - The Prodigal Mage before reading this. I haven't read the Prodigal Mage and suffered for this oversight as there are lots of references to events of the previous volume although if you've read The Innocent Mage or The Awakened Mage then you will relate to much of the backstory as this series is set in the same world.

Karen Miller is a very creative writer, the plot is very fast paced, the characterisation entertaining and the story very powerful. There is very little wasted space in the book, little given to introspection and yet there is a huge amount of fantastical elements present and great world building. This is a very focused, incredibly rich and powerful story told in Karen Millers clear and friendly style.

It's also very interesting to see the main protagonists grow and develop, by the end of the book they have matured and found their own strengths and weaknesses. The ending is superb with all the plot lines tied and a real definitive ending that you don't often see.

The Reluctant Mage is one of those rare tales that keep you entertained from beginning to end, a fantastic read for any fan of high fantasy.
Written on 21st September 2010 by Ant .
You may also like