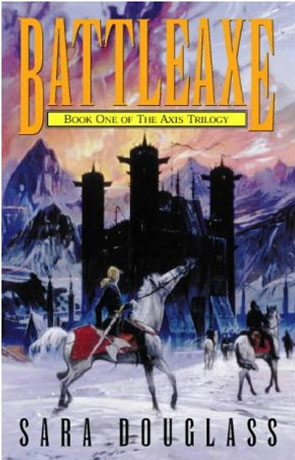 Book details
Battleaxe

Series:

The Axis Trilogy

Publisher:

ISBN:

Published:

Pages:

688

Format reviewed:

Hardback

Review date:

14/09/2008

Language:

English

Age Range:

N/A
Books in the series
The Beginning of the Axis Trilogy by Australian fantasy author Sara Douglass, Battleaxe is also the first novel of The Wayfarer Redemption in the USA. This first book revolves around Axis, Battleaxe of the Axe-Wielders, and Faraday, daughter of Earl Isend of Skarabost.

The story begins with in the world of Achar, following the Acharites who worship the God Artor (The Plough God), the Archarites hate and fear any Forest and have destroyed nearly all within their realm. Any races that inhabit the forests are described as the "Forbidden" and also hated. Enforcing the will of this religion are the Seneschal who command the "Axe Wielders", an exemplary fighting force. The book starts with 2 unnamed women in mortal peril, one who is pregnant and one who has just given birth. The pregnant woman is trying desperately to reach the shelter before a snowstorm erupts. She is an outcast of her people, the Avar because she has decided to carry her child, conceived during a festival and considered an abomination, to term. A group of demonic creatures, skraelings, watch as her unborn child brutally eats his way out of her womb, killing her. The skraelings are curious and decide to save and raise the child.

The second woman had given birth to an illegitimate child 2 days before, who she believes is dead. The child was illegitimate, and she is of high-born, perhaps noble, birth. After giving birth, she is taken and dumped in the freezing cold mountains to die.

The illegitimate child, Axis is raised by the leader of the Seneschal and eventually rises to command the Axe Wielders, given the title "Battleaxe".

Battleaxe is a very easy to read novel with great characters and a fascinating plot, Sara Douglas style of writing is refreshingly different and quite compelling.
Written on 14th September 2008 by Ant .
You may also like