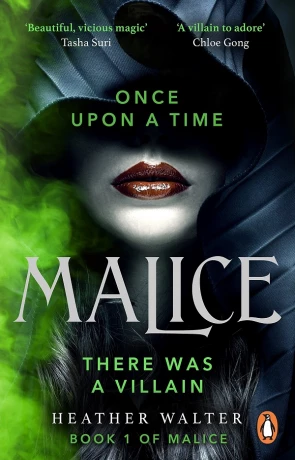 Book details
Malice

Series:

Book 1 of Malice

ISBN:

9781473589384

Published:

April 2021

Pages:

464

Format reviewed:

Paperback

Review date:

09/03/2022

Language:

English
Books in the series
Are villains made or are they born? I believe more in nurture over nature, that someone is not born inherently evil but is made so by their experiences. Alyce is not a bad person, but her heritage as half-Vila makes her a pariah in the Kingdom of Briar. The people hate her, but her elixirs are useful to them. Can Alyce overcome all this prejudice and rise about it all, or will she show them the true power that she hides within? Malice by Heather Walter explores whether a person can avoid becoming a powerful villain or if fate inextricably leads there.
The Kingdom of Briar has become powerful on the back of its magic. Each year a few girls are born as Graces, their golden blood can be used to create magical elixirs for beauty, wisdom, or passion. Alyce is the only Dark Grace, her blood green, not golden. Her power is to create curses, poxes or to ease the death of the suffering. Shunned by most and hated by many, Alyce wishes to escape her life and leave the Briar, but when she meets the cursed Princess Aurora, she makes a friend. Alyce may be the only person that can break Aurora's curse but experimenting with her Vila side could lead Alyce towards evil.
Fantasy books are often epic and follow numerous characters on separate adventures throughout a diverse fantasy world. Malice rests upon such a world. There is talk of human Kingdoms, but also lands made up of the Fae. However, Walter does not throw the reader into an epic road story, but instead concentrates on Alyce and the politics of the Briar. I found it refreshing to read a fantasy novel that stopped in one place for a while and really concentrated on developing a character.
The character of Alyce is what makes this book. She is the central protagonist, and her story is powerful. Her life is a misery, but it is better than being executed as a child. Through her you get to witness the vanity and shallowness of the rich in Briar, coming to her for potions to sabotage others in the Court. Is this what the Fae hoped for when they bestowed limited magic in the kingdom? Many believe they did as over the centuries Briar has fallen from a military power into one obsessed with appearance and a reliance on their Graces.
Alyce is part of the Grace system of rules and laws, but also apart. The rules include having to provide magic for anyone that can pay. The Graces live in a gilded cage, but within this is Alyce's own darker prison of loneliness, bitterness and resent. With her powers developing, will these feelings manifest themselves in evil acts? The presence of Princess Aurora suggests not as suddenly Alyce has a voice for good in her life.
It is here that the fairy tale like elements of the story develop. Events conspire against Alyce and she is continually challenged to remain peaceful, but how long can this last. The initial parts of the book explore the Briar and Alyce's life and then it evolves into a book about friendship and perhaps more. The final act is all about action as events come to a head. The tale of an ostracised magic user being pushed towards villainy does chime with the likes of Wicked, but like in that play, it is great to understand more about what makes someone become bad. It is not all their doing and other villains may be at work.
The book is a slow boil, and you can enjoy the build-up as well as the satisfying conclusion. The book ends dramatically promising a vastly different part two to this duology. Many of the epic world spanning Kingdoms and creatures hinted in the text may just get a more prominent role. I just hope that the book remains focused on Alyce's story as it is an intriguing one. I look forward to the second outing.
You may also like