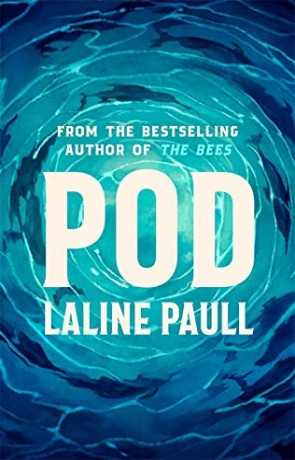 Book details
Pod

ISBN:

9781472156594

Published:

April 2022

Pages:

272

Format reviewed:

Paperback

Review date:

07/04/2022

Language:

English
About the author
Nature, red in claw and tooth. It is a world of the strong surviving the weak dying. Therefore, fiction that tells a story from the animal perspective can be full on. Watership Down and The Animals of Farthing Wood have managed to traumatise many a youth and even the jolly Redwall books I used to read left me sad at times. Nature can be cruel, but it can also be magnificent. Laline Paull captures both aspects as the reader enters the underwater world of sea life in Pod.
Ea is unlike the other Spiral Dolphins in her Pod as she is unable to hear the oceans. Rather than making her an outcast, her Pod still embraces her. When Ea is separated from her peers, she finds herself alone in the great beyond. Stumbling across a new Pod should be ideal, but not when they have a separate way of life than she is used to. Ea will have to deal with the cruelty of her new captors, but also the mysterious demons that are trawling the seas killing all the creatures they can find.
It is hard to pigeonhole Pod as it is such a different type of book. It certainly has no pigeons, but to my knowledge, there are no dolphin holes to fill in fiction. So, what is it? It is a literary tale, fiction for fiction lovers, but it also spoke to me of fantasy and magical realism. The various sea creatures form into clans with their own ways and ambitions. The tensions between them are not unlike a Game of Thrones. There is also magic in the water. Paull plays up the use of sound and sonar in the water to display how creatures such as dolphins see the world very differently to us.
As a reader it took me a few pages to ease into the style, but once you are there you get the sense of being underwater, in a vast nothingness, that also teems with life if you discover the right places. There is an otherworldly sense to proceedings that make it a book you need to concentrate on when reading. Who are these demons that the whales sing about across the waves? Paull explores the sea creature's relationship with humans in an interesting way. We are as alien to them as the deeps are to us humans.
Ea is not the only character in the book but is dominant. The likes of Google, an ex-military dolphin, explore further man's role with the sea, but the heart of the book lies with Ea's story. As mentioned, nature is cruel, and Ea's story is not always an easy one. The reason is that imbuing animals with human thoughts and traits brings to light how harsh their world are. Ea is sexually abused on several occasions and passed around by males, this is part of nature, but as we know Ea's inner thoughts, it hits home hard. Do animals understand these fears? That is a question for philosophers, what I can say is that Paull does a fantastic job of making her characters in this book feel.
I have not read anything quite like Pod before and that makes this a refreshing read. I loved the sense of the ocean that is throughout the book. You feel the depths, the weight, the majesty of it. It is not a book for the faint hearted as Paull does not shy away from the cruelty of nature, but if you are able to complete Ea's trials, you come out the other side feeling that you have been on an adventure that has spanned thousands of nautical miles.
You may also like