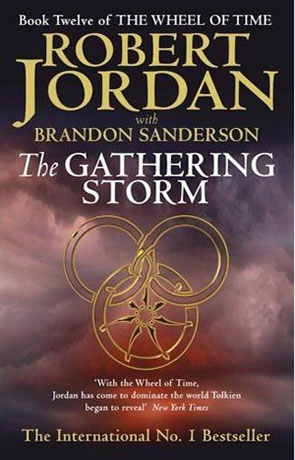 Book details
The Gathering Storm

Series:

The Wheel of Time

Publisher:

ISBN:

Published:

October 2009

Pages:

688

Format reviewed:

Hardback

Review date:

01/06/2010

Language:

English

Age Range:

N/A
Books in the series
Awards won
About the author
The Gathering Storm (formally under the working title A Memory of Light) is the 12th novel in the outstanding fantasy epic, the Wheel of Time by the late Robert Jordan, originally started in 1990 with "The Eye of the World".

As Jordan passed away before completing what was thought to be the last volume in the series (but admitted by Jordan to be a massive volume) it was chosen by Jordans wife and his estate that "A memory of Light" will be completed by the author (and big Wheel of Time fan) Brandon Sanderson.

Due to the vast amount of material, and story still left untold it has been decided that the final novel be split into 3 books due to be released over the next 2 years. These three novels bring the incredible Wheel of Time series to a close and promises to be an epic and somewhat emotive finale.

The Gathering storm is the first of these 3 novels and picks up where the previous volume, Knife of Dreams finished and follows Rand, Matt, Perrin, Ewgene and Elaine as they strive to prepare for the impending Tarmon Gai'don.

Rand's capture of one of the forsaken means they can try and gain knowledge in preparation for the last battle, but this is made more difficult by his insistence that torture is not used. Rand is however determined that they do everything they can to prepare, including finding peace with the Seanchan and uniting the people.

Ewgene meanwhile continues her trials, trying to keep the fractured White Tower together and turning the minds of the Aes Sedai to unite and restore the Ajah's under one Amyrlin.

Matt continues to move from Seanchan controlled lands, leading the Red Hand while his Ta'veren nature means that danger continues to stalk his footsteps and he receives help from a very unexpected source.

The Gathering Storm manages to gather pace towards the inevitable final battle, while still retaining the quintisential style that is the Wheel of Time. While there is a difference in Brandon Sanderson's prose, as you would expect - it does somehow fit perfectly with Jordans. Sanderson manages to merge these two styles into a seamless novel where you really can't see the joins.

As you might expect from the beginning of the end, a number of loose threads are finally tied up and a real sense of urgency is created in the run up to Tarmon Gai'don.

The Gathering Storm is one of the strongest Wheel of Time novels so far and an incredible literay achievement by Sanderson in carrying out an almost impossible task of taking over from a Legend without plagiarizing his style.
Written on 1st June 2010 by Ant .
You may also like