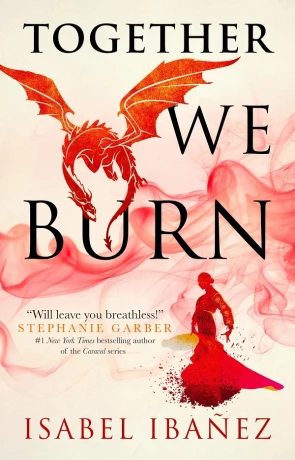 Book details
Together We Burn

ISBN:

9781803360362

Published:

July 2022

Pages:

393

Format reviewed:

Paperback

Review date:

06/07/2022

Language:

English
I love fantasy novels, especially when an author takes the genre in a different direction. Together We Burn by Isabel Ibanez is a fantasy book unlike the others. The difference is that this fantasy world is based on Latin culture and the dragons are hunted and caught. Once captured this menace is not exterminated immediately, but instead taken to an arena to be dispatched by a Dragonador, in the fashion of a Matador, but what happens if a captured dragon escapes into the city?
Zerela Zalvidar is the daughter of a famous flamenco dancer and Dragonador. Her life should be charmed, but she knows tragedy as one year earlier her mother was killed when a dragon from the family arena escaped. Now Zerela has stepped into her mother's dancing shoes and tragedy has struck again. With the family business in ruins and her father injured, can Zerela rebuild or is someone trying to sabotage what her family built?
Fantasy is a genre rife with hefty tomes and long running series, so Burn is refreshing in more than one way. Not only does it have a distinct sense of place, but it also works as a standalone title. You can start the book with the confidence that you will have answers by the end. And answers are required as this is not a road story like many fantasy books, but one about family and a central mystery. Zerela must take on the mantle of leading the family at only 18, but also investigate if someone is sabotaging their outfit.
The world building by Ibanez is excellent and leans heavily into the culture of the Matador and bull fighting. In the city of Hispalia the killing of dragons is a spectator sport that plays an important part in the culture and can give a family great prestige. Therefore, when things start to go wrong for the Zalvidar family it could destroy a legacy that has lasted centuries.
The parallel between bull fighting and dragon fighting is clear, and it can leave the reader a little uncomfortable if they are against the bovine version of the sport. Fear not, as this trepidation plays an important part of the novel. The Zalvidar family are traditionalists, as is Zerela herself. They see little issue in killing dragons for sport, this has always been the way it has worked. However, as the story progresses, other voices are introduced to Zerela and her knowledge grows. The very nature of dragon fighting becomes key to the story.
Alongside the world building is some character development that readers of spicy relationships will enjoy. The reclusive Arturo plays a leading role in the story, not only as an alternative voice on the nature of dragons, but also as a love interest. There is a classic golden era of Hollywood feel to the relationship between Zerela and Arturo as they spark off one another. The will they, won't they nature of their relationship plays a pivotal role in the book, making it a read for those that like character driven storylines.
Burn is a fantasy novel that has a refreshing different world at its centre and exploring the nature of dragon fighting intrigues me. The characters are spiky and have fire, making them fun to read. In places it felt like a romance novel, but there are enough disasters and dragon fights to appease the action fan. This is a book full of tragedy and hardship, but the central relationship makes the book feel lighter and it becomes a feel-good novel and one that you know will have an ending in one sitting – let's just hope it is a happy ever after ending.
You may also like