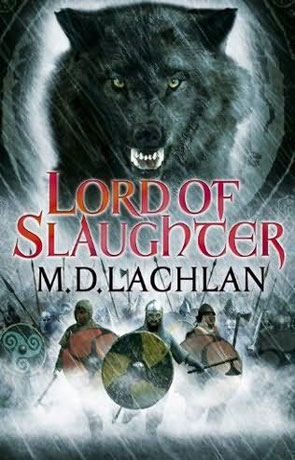 Book details
Lord of Slaughter

Publisher:

ISBN:

9780575089679

Published:

June 2012

Pages:

416

Format reviewed:

Hardback

Review date:

19/11/2012

Language:

English

Age Range:

N/A
The wolves are howling outside the city of Constantinople and mysterious sorcery plagues its citizens. On a field of battle littered with the dead and dying stumbles a ragged figure dressed in wolfskin and wreaking of death. Slipping past the guards he enters the tent of the Emperor and draws his sword.
A young boy has sacrificed the lives of his family for power while Christian scholar Loys his and pregnant wife flee the enraged father-in-law. The wild Norsemen speak of a legend, a heretical tale where a wolf will kill the gods. All paths seem to lead not to Rome but Constantinople and the squalid, rank prison beneath who's occupant believes he himself is a wolf.
When the spirits of the dead begin to walk it becomes clear to Loys that Ragnarok is coming but will he be willing to sacrifice everything for a god he doesn't believe in?
Lord of Slaughter is the third novel in the Craw series that spans a hundred years and weaves together history, myth and magic to create a pretty stunning series. What strikes you right away about this book is the way it transports you to medieval times, the feeling is quite powerful and there is a rough, gritty quality that reminds me of Joe Abercrombie - a dark and broody atmosphere that has a certain intensity about it.
This ambiance draws you into the book but it's the quite brilliant characters and fast moving plot that keeps you glued to the book. This is the first novel i've read in the series and yet I didn't feel that I was missing out on anything. The author manages to feed out the story at just the right moments, never giving too much away, just enough to keep you hooked and to try and guess whats going to happen next.
The prose is terse, emotive, richly detailed and infused with this estoric, brooding quality which manages create a powerful and mesmerising atmosphere. It feels very much like a modern day saga more than simply a novel, I really couldn't put the book down once i'd started reading and didn't want to either. The ending is pretty much epic too, grandiose and quite fitting a finale.
If you like your fantasy low-key or a bit more gritty than the average fare or even if you just enjoy a historic tale, you won't find a better book anywhere else.
Written on 19th November 2012 by Ant .
You may also like