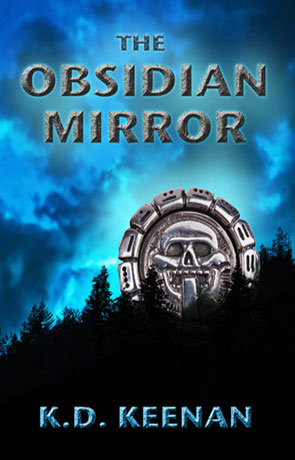 Book details
The Obsidian Mirror

Publisher:

ISBN:

978-1940820163

Published:

September 2014

Pages:

308

Format reviewed:

Paperback

Review date:

09/01/2015

Language:

English

Age Range:

N/A
In The Obsidian Mirror, an ancient evil has hijacked Silicon Valley technology. The result could be disastrous, and stopping it falls to out-of-work PR executive Sierra Carter.
I thoroughly enjoyed reading The Obsidian Mirror. It was deliciously chock-full of Native American (and some other) mythology, which was a huge treat. It was woven naturally into the story, so it never felt off-putting or out of place. The novel has action, love, and some very strange things happening, making it an entertaining read.
However, the book dragged in a few places, and I found some of the romance stiff and forced, making it difficult for me to connect with Sierra as a character. It follows a fairly typical plot and while I was engaged and interested, I was never particularly surprised by the plot or characters' reactions. I would have liked to see harder decisions being made and characters' having to really deal with the consequences of their actions. I found that many things in the book seemed to happen "because plot," which made certain things seem a little contrived. But, in the end, the action, mythology, and strong characters kept me going.
Though I never really fell in love with Sierra as a character, I did love several others—Chaco, the sometimes-coyote; Kaylee, Sierra's friend; and Fred, a weird little being, to name a few. The Obsidian Mirror is an incredibly imaginative book, and one I would recommend to friends who love a good bit of mythology with their fantasy.
Written on 9th January 2015 by Vanessa .
You may also like