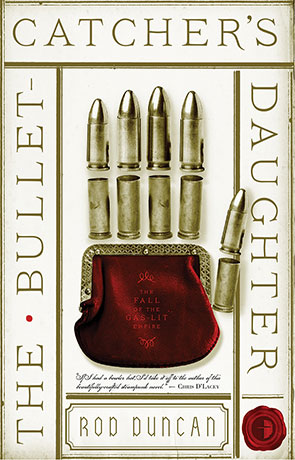 Book details
The Bullet Catcher's Daughter

Publisher:

ISBN:

978-0857665300

Published:

August 2014

Pages:

320

Format reviewed:

Paperback

Review date:

28/07/2014

Language:

English

Age Range:

N/A
The Bullet Catcher's Daughter is set in a world that is steeped in steampunk style. Not only full of arcane machines but with a clear nod to the Victorian society and strict sexist views. This style is perfectly captured by the series name "The Gas-Lit Empire".
In this tightly controlled Empire it is unseemly and in many cases actually illegal - for a woman to have a "proper" job. As a result Elizabeth Barnabus is forced to lead a double life of duplicity. Acting as a lady but working as a private detective while disguised as her fictional brother.
The author provides a wonderful insight into this double life and how it could work with inner dialogue from Elizabeth. It's a process that works well and feels perfectly fitting. At times the method of acting as a male is very cleverly accomplished. The story is engaging and above all entertaining, filled with some genuinely interesting characters and a nicely even, well paced plot.
I loved the atmosphere of this Steampunk novel, it has a rich quality about it that almost extrudes the sights and smells of the Empire and it's careworn streets.
The idea of an agile, daring and talented female detective who is also a master of disguise who succeeds in a restrictive, male dominated society provides a clever angle. The author really does the character justice and in many ways Elizabeth comes across as a female James Bond (without the sexism and perpensitity for violence).
Overall the book works well, the atmosphere is electric and the world building credible. The story is entertaining and the device of the female working in a male orientated world adds a great deal.
The Bullet Catcher's Daughter is an entertaining book that has some genuine, original touches combined with a clever story and even cleverer characters.
Written on 28th July 2014 by Ant .
You may also like