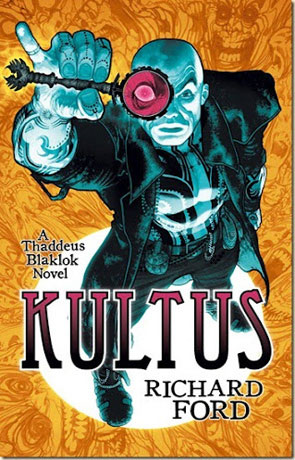 Book details
Kultus

Publisher:

ISBN:

9781907992278

Published:

November 2011

Pages:

368

Format reviewed:

Paperback

Review date:

27/02/2012

Language:

English

Age Range:

N/A
Meet Thaddeus Blaklok, mercenary, demonist and down right violent thug-for-hire who uses his fists the way most people use punctuation. He is dragged out of semi-retirement to "retreive" a very mysterious key for his equally mysterious benefactors. He isn't the only one after the artefact however and he soon finds himself pursued by brutal cultists, bloodthirsty gangsters, deadly mercenaries and hell spawned monsters, all of them determined on stopping him by any means necessary and keeping the key for themselves.

Blaklok must make use of all his wits, bravado and demonic powers to keep the key from those who would use it for ill, it's not just any old key you see and opens gates that should never be opened, releasing creatures that should never be seen.

Kultus is an adrenalin fueled, relentless story set firmly within the steampunk genre and yet retains a style that is all it's own along with a flavouring of magic and demonology. I loved the morally ambigious protagonist in Thaddeus Blakok, he's one of the most dangerous people you could meet, a demonist, mercenary and down right aggressive thug who makes a very interesting and pretty unique lead character. I found myself loving the direct and often (well ok, near always) violent approach to solving the many problems presented through the novel while the warm, tongue in cheek humour and often darkly amusing actions prevent the novel from becoming too serious.

It's got to be said that this novel has style, bags and bags of it and this is combined with an uncompromising approach with Blaklok bulldozing his way through ever bigger, meaner opponents and becoming steadily more battered, bloody and bruised as the story unfolds. At times it's only the characters sheer willpower that keeps him going and this is played perfectly, including some very effective back-story hints and powerful character building.

There isn't really much attention spend on the describing the city Manufactory where the story is based (I would have loved to learn more), the focus is purely placed on the plot and the characters. While this does lead to a wonderfully winding (if somewhat predictable) plot and pretty relentless pace it does feel like it's all taking place against a grey background, like a cartoon where the animator has neglected to colour in the scenery.

Kultus is highly entertaining, a huge amount of fun, never taking itself too seriously and all the better for it. If you like an action-packed, gory tale led by a ruthless protagonist then this is the perfect book for you.
Written on 27th February 2012 by Ant .
You may also like