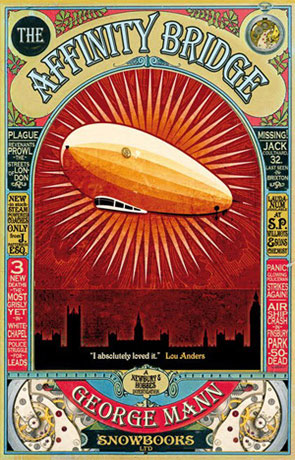 Book details
Affinity Bridge

Series:

Newbury & Hobbes

Publisher:

ISBN:

9781905005888

Published:

2008

Pages:

416

Format reviewed:

Paperback

Review date:

02/07/2012

Language:

English

Age Range:

N/A
Books in the series
Immorality Engine
The Osiris Ritual
About the author
I found this book during a post Christmas hunt in my local Waterstones after receiving a number of gift vouchers. I had never read anything by the author (or indeed the publisher) but have seen the third novel in the series (the Immorality Engine) appearing around the web for a while.
For me one of the great things about gift vouchers is it gives me a bit more freedom to take a risk with an unknown author or book - after all it's not really my money and so isn't costing me anything. As a result I took a chance and picked up all three books in the Newbury & Hobbes series (amongst other selections) and after reading the first one I am really glad I did.
Affinity Bridge is set within a Steampunk Victorian London, a city that is teetering on the edge of a revolution amidst an era that see's incredible new inventions every day. Airships sour through the skies while "ground trains" (steam powered trains that ride along roads) rumble and hiss through the streets and clockwork automatons carry out menial tasks in the offices of lawyers, policemen and journalists.
Beneath this shiny veneer though is a much darker and more sinister side, this is a world where a virulent disease spreads through the city, turning it's carriers into walking undead, a place where poltergeist infestations create havoc in old country seats and where nobody ever goes near the Natural History Museum.
Within this rich tapestry we are introduced to the intrepid secret agent of the crown - Sir Maurice Newbury and his quick witted and beautiful assistant Miss Veronica Hobbes. Working out of the National Museum as a cover, they investigate anything that is out of the ordinary or is of particular interest to Her Majesty. In style it's very much like a steampunk version of Sherlock Holmes - with a small nod to Sexton Blake too, a detective story that oozes charm and class. I loved the feeling that the author imparts, a very strong and confident voice that is quite unique.
The actual plot itself is as complex as you would expect a detective story to be with enough twists, turns and red herrings to keep the reader glued to the pages with a fairly fast pace. For me though it's the way the main characters are brought to life that really makes this novel shine. Sir Maurice is a real Victorian gent and very much the unlikely heroic cavalier that isn't above making mistakes while his glamorous new assistant Miss Hobbes is surprisingly forthcoming and more than capable, a strong female character that still manages to avoid becoming an anachronism. The backstory that goes with these two protagonists is also rich, intriguing and masterfully uncderplayed.
I loved the whole steampunk style, from the steam-driven taxis to the clockwork automata that manages to blend seamlessly with the horrific revenant. I am fast becoming a firm fan of the genre and would love to see it gain more exposure, I sincerely hope that through the talented efforts of authors like Mann we will see this hope blossom.
Affinity Bridge is a real work of art, funny, quirky and with bags of atmosphere it's a book I was completely hooked by from beginning to end, superb.
Written on 2nd July 2012 by Ant .
You may also like