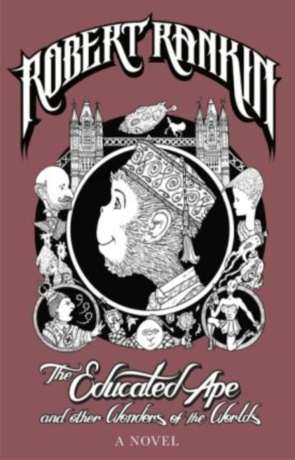 Book details
The Educated Ape

Series:

Japanese Devil Fish Girl

Publisher:

ISBN:

9780575086418

Published:

November 2012

Pages:

496

Format reviewed:

Hardback

Review date:

17/12/2012

Language:

English

Age Range:

N/A
Books in the series
About the author
Robert Rankin is without a doubt one of the select few funniest and sometimes strangest authors alive today. Often his novels are more than a little odd and with The Educated Ape he manages to merge these styles with a steampunk theme and some quite brilliant characterisation.
This is the third novel in a series of four, following on from Japanese Devil Fish Girl and The Mechanical Messiah - neither of which i've read. Does it matter that I didn't read the previous two books in the series? not in the slightest, although I am now including them on the must have book list following on from reading this quite spectacular novel.
The London of 1899 is a city of dreams. Lord Brentford dreams of a Grand Exposition that will showcase the Wonders of the Worlds and improve the peace and prosperity between the races of Venus, Jupiter and Earth. Earnest Rutherford also has a dream, he imagines the construction of the ship that can travel through time itself, powered by the secret large hadron collider that runs underneath the very streets of London. England's greatest detective has a dream, Cameron Bell envisions solving the crime of the century - before it even takes place (preferably without blowing up any more of London's landmarks). Darwin the Monkey butler has a dream, his vision involves the ending Man's inhumanity to Monkey, of bringing a little more joy into the world and preferably the planting of many Banana trees.
There are others dreaming much darker dreams, dreams that could spell the end for the human race and civilisation, nightmares celebrating the destruction of the earth and an end to all things.
Some of these dreams may well come true.
I must admit that I was completely blown away by this novel, I have often loved Rankin's work but it's always been pretty crazy - sometimes stark raving mad - but here he is more restrained and taken outside his comfort zone of Brentford too. The prose still contains his wonderful sense of humour and this is highlighted by a more subtle style and some wonderfully rich - at times even elegant, narrative. There are still plenty of wonderfully weird Rankin moments though and it still feels very much like one of the authors novels, just a little more mature and suited to a wider audience who perhaps don't want to read about sprouts.
I loved the Victorian setting which fits perfectly alongside the ingenious plot and warm, rewarding characters (Darwin being a firm favourite). The pace is set just right and never once stalls or stops the plot from moving forward. The story itself is inspired and keeps you totally glued to the pages, as do the adventures of Cameron and Darwin.
I have been reading Robert Rankin novels for over 20 years (I have 22 of his books) and I have to say that this is his finest novel to date, all the more powerful for a slightly subtler edge and the Steampunk setting, simply genius.
Written on 17th December 2012 by Ant .
You may also like