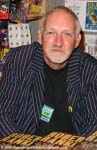 Robert Rankin (full name Robert Fleming Ranking) is an English Author who specialises in a mixture of Comic Fantasy, Science Fiction and the Occult.
Robert was born in Parsons Green, London and grew up in the Brentford area (also in London).It is in Brentford that the majority of his books are set, with many of them featuring John Omally and Jim Pooley from the Brentford Trilogy of which there are currently 8 novels.

Robert is a very rare author in that he doesnt take himself too seriously, even to the point of fabricating a very humourous biography.
Robert's books deal in detail with the macabre and how this intersects with modern life while also involving many obscure joke references and a level of depth that challenges the conventions of traditional story telling.
Bibliography
The Brentford Trilogy

The Antipope (1981)
The Brentford Triangle (1982)
East of Ealing (1984)
The Sprouts of Wrath (1984)
The Brentford Chainstore Massacre (1997)
Sex and Drugs and Sausage Rolls (1999)
Knees Up Mother Earth (2004)
The Brightonomicon (2005)

The Armageddon Trilogy

Armageddon: The Musical (1988)
They Came and Ate Us (Armageddon II: The B Movie) (1991)
The Suburban Book of the Dead (Armageddon III: The Remake) (1992)

The Hugo Rune Trilogy

The Book of Ultimate Truths (1993)
Raiders of the Lost Car Park (1994)
The Most Amazing Man Who Ever Lived (1995)

Japanese Devil Fish Girl

Japanese Devil Fish Girl (2010)
The Mechanical Messiah and Other Marvels of the Modern Age (2011)
The Educated Ape (2012)

Single Volumes

The Greatest Show Off Earth (1994)
The Garden of Unearthly Delights (1995)
A Dog Called Demolition (1996)
Nostradamus Ate My Hamster (1996)
Sprout Mask Replica (1997)
The Dance of the Voodoo Handbag (1998)
Apocalypso (1998)
Snuff Fiction (1999)
Waiting for Godalming (2000)
Web Site Story (2001)
Fandom of the Operator (2001)
The Hollow Chocolate Bunnies of the Apocalypse (2002)
The Witches of Chiswick (2003)
The Toyminator (2006)
The Da-da-de-da-da Code (2007)
Necrophenia (2008)