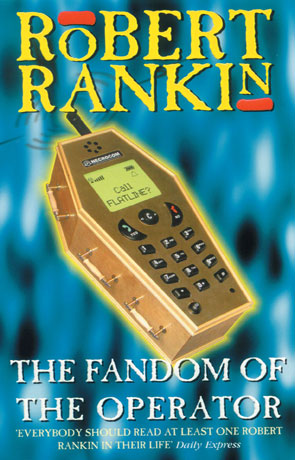 Book details
The Fandom of the Operator

Publisher:

ISBN:

9780552148979

Published:

November 2001

Pages:

368

Format reviewed:

Hardback

Review date:

05/10/2012

Language:

English

Age Range:

N/A
About the author
Robert Rankin is pretty unique amongst the literary world, in many ways he's like a grown up version of Spike Milligan who perhaps has been influenced by Pratchett in a "funny mood". His books are always very easy to read and yet have hidden depths for those who wish to look for them, I've yet to meet one I didn't like.
The Fandom of the Operator is no exception, written with his usual wit and off-the-wall humour, not only is this his 23rd novel but it's also got a certain style about the prose that is a bit different than most of his other works; with an absolute corker of a start. I know that some have said that this book is darker than most and I guess that is part of the reason why it feels so different, it does have that sort of edge but then again so do many of his others.
The story revolves around that of Gary Cheese, a resident of Brentford (where else) and a big fan of that famous novelist P.P. Penrose, eminent author of that Noir tinged sleuth Lazlo Woodbine. Growing up in the 1950's without those modern diversions we so often take for granted, Gary developed a healthy if morbid interest in all things Death and so when P.P. Penrose passes away he feels obligated to resurrect his most beloved author. Things don't quite turn out as planned however and for reasons I won't go into the author of that famous detective remains bereft of life. Fast forward to Gary at 22 (in the 70's) and he has managed to find himself in the sort of dead-end job that those who are employed as wet paint watchers wouldn't envy.
Its been quite some time since I last read a Rankin book, I used to read them by the box load when I was younger and having not read his work in some time its easy to forget how completely, utterly different and more importantly how fiendishly clever these books are. I can't think of a single author that compares to his confounded brilliance or who manages to write about the same town and often the same characters and yet still come up with a convincingly contradistinct, engaging story. Filled with obscure references, off-hand jokes but this time only a passing nod to the sprout.
The Fandom of the Operator has a great pace that manages to move the story forward in an effective manner without pause or stumble, the plot is inventive and pure Rankin in its convoluted twistyness and there is a big reveal towards the end that will cause you to actually kick yourself if you didn't work out before-hand.
Everyone should read at least one Rankin novel in their lives, at the very least to boggle their mind but more importantly because, like Fandom, they are truly entertaining reads.
Written on 5th October 2012 by Ant .
You may also like