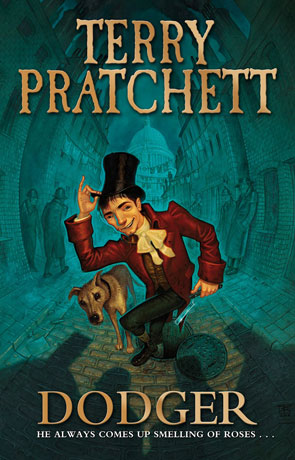 Book details
Dodger

Publisher:

ISBN:

9780385619271

Published:

September 2012

Pages:

368

Format reviewed:

Hardback

Review date:

01/10/2012

Language:

English

Age Range:

N/A
About the author
Dodger, a young sewer "tosher" who works beneath the streets of Victorian London is guided along series of events that will transform his life and those around him. It all starts when a young women is beset upon by two ruffians and Dodger rescues the young lady from certain death.
I was quite surprised when I got my hands on this book, given a cursory glance I was expecting it to be a return to Discworld after the quite brilliant science fiction novel The Long Earth. Instead we are treated to a trip through a Dickensian London following the fortunes of Dodger, resourceful rascal with more potential than a comet hurtling towards the earth.
I've heard a few people complain that Dodger doesn't feel like a Pratchett novel, that it hasn't got the same humour and yes I'd agree that Dodger is different but only so far as any of Pratchett's novels are different when they aren't set on the world that sits on the back of 4 giant elephants being transported through space under the propulsion of Great A'Tuin the Star Turtle. If you read Nation, Truckers or even Good Omens you will see that these too are very different and yet no less clever or entertaining.
So yes Dodger isn't Discworld but it is just as captivating and still has the authors same disarming intelligence and warmth - but with a Dickensian flavour and having read it I am glad that the author is branching out from Discworld (although I do hope he returns now and again). As with Nation there are stories you have to have a different backdrop to tell in the right way and Dodger is one such book.
There is a wonderfully rich mix of Victorian characters who all interact with the delightful Dodger - a character as well written as any in the authors 40+ stories. He's smart, crafty, streetwise and yet with a thoughtful mind and an innocent-(ish) heart. The story is engaging and the pace set just right while the atmosphere is just magical, you can almost smell the (not-too-pleasent) air and feel the damp fog swirling around your ankles. Pratchett weaves a wonderfully rich spell that captures the essence of old London perfectly. This includes some of the most (in)famous characters of the era, all weaved within the tale in a delightful manner.
With more twists and turns than an amusement park along with the usual insightful observations the author is famous for, at times the story has you laughing out loud, at others it becomes quite emotive - tugging at the old heart strings. The book holds you in it's powerful grip until the highly rewarding end. On the subject of the ending, it's left open enough that we could hopefully read more about Dodger (I really do hope so) and yet a fitting enough end that doesn't leave loose ends hanging about.
Dodger is Pratchett at his best, which also means one of the best writers alive today writing one of the best books this year, magical.
Written on 1st October 2012 by Ant .
You may also like