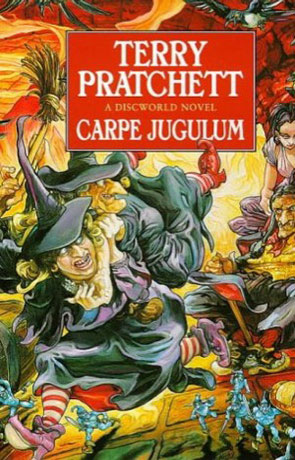 Book details
Carpe Jugulum

Series:

Discworld

Publisher:

ISBN:

978-0552146159

Published:

1998

Pages:

424

Format reviewed:

Paperback

Review date:

01/07/2000

Language:

English

Age Range:

N/A
Books in the series
A Hat Full of Sky
Equal Rites
Eric
Feet of Clay
Going Postal
Guards! Guards!
Interesting Times
Lords and Ladies
Making Money
Maskerade
Men at Arms
Monstrous Regiment
Mort
Moving Pictures
Night Watch
Pyramids
Reaper Man
Science of Discworld 4
Small Gods
Soul Music
Sourcery
The Colour of Magic
The Discworld Companion
The Fifth Elephant
The Last Continent
The Light Fantastic
The Unseen Academicals
THUD!
Wintersmith
Witches Abroad
Wyrd Sisters
About the author
Translating the title take a bit better knowledge of Latin than I have (which is close to non). I can understand the Carpe part, but Jugulum? It turns out to mean something like "Go for the Throat" (that's Nanny Ogg's translation, not mine), which could be quite a hint towards the topic of this book, namely Vampires. And now that I've mentioned Nanny Ogg, most of you will have guessed that the main characters are the witches of Lancre (first appearing in Wyrd SistersPyramids for more on The Assassins Guild).

There's a new kind of king in Lancre, who's decided he wants to make friends of all his neighbours, and there for invites them to Lancre for the naming of his son. The Vampires of Uberwald are trying to be modern and are doing their best to move into the Century of the Fruitbat (before it's over), but they still need an invitation before they can enter other people's homes or countries. Now combine these two facts and you have the makings of a story.

Probably the best Discworld story that I've read in quite a while, the Vampires are funny and refreshing, the witches are forced to reinvent themselves and I really hope that we'll see the new character Oats again, but most importantly the word plays and jokes fall naturally and close together, keeping you smiling from the first to last.
Written on 1st July 2000 by TC .
You may also like