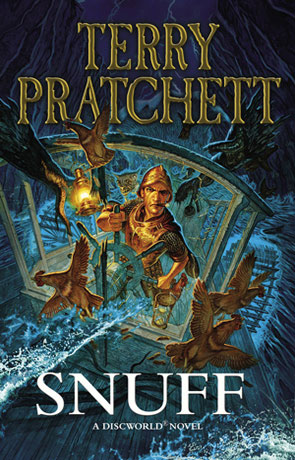 Book details
Snuff

Series:

Discworld

Publisher:

ISBN:

978-0385619264

Published:

October 2011

Pages:

384

Format reviewed:

Hardback

Review date:

02/11/2011

Language:

English

Age Range:

N/A
Books in the series
A Hat Full of Sky
Equal Rites
Eric
Feet of Clay
Going Postal
Guards! Guards!
Interesting Times
Lords and Ladies
Making Money
Maskerade
Men at Arms
Monstrous Regiment
Mort
Moving Pictures
Night Watch
Pyramids
Reaper Man
Science of Discworld 4
Small Gods
Soul Music
Sourcery
The Colour of Magic
The Discworld Companion
The Fifth Elephant
The Last Continent
The Light Fantastic
The Unseen Academicals
THUD!
Wintersmith
Witches Abroad
Wyrd Sisters
About the author
Sam Vimes is forced to take a holiday in the country and discovers that things are not what they seem in the peaceful village. Once again Pratchett has written a classic with, humour, suspense and sheer wonder. I was hooked from page one and read the whole thing in two days stopping only to eat and sleep and then sparingly.

The characterisation is pure Pratchett, the slightly over the top people are nearer those you meet in real life than is comfortable sometimes. The bad guys are sometimes not so bad, the good guys not always as good as they could be but they are all wonderful, colourful and you get caught up in their lives.

So if there's anything you need to know about goblins, you want to know how Young Sam is growing up, you wonder how Vimes copes away from the streets of Ankh-Morpork and how The Watch manages without him, then pick up a copy and immerse yourself in all things Discworld.
Written on 2nd November 2011 by Gill.
You may also like