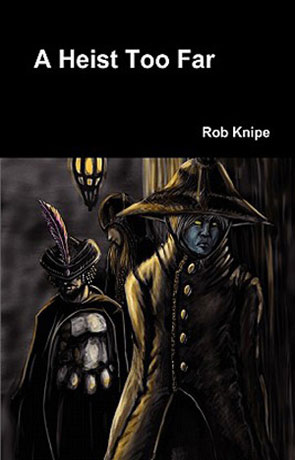 Book details
A Heist Too Far

Publisher:

ISBN:

9780557707713

Published:

October 2010

Pages:

586

Format reviewed:

E Book

Review date:

25/02/2011

Language:

English

Age Range:

N/A
About the author
A Heist Too Far is a fantasy novel by Rob Knipe.

Mallik is a skilled assassin who is very quick on his feet with an even quicker temper, he travels with Dick Swede (aka The Black Moustache) who is nearly famous as a highwayman and Jules Van Jives - a quickly bored elf with an unhealthy obession for explosives and a complete disregard for danger. Together they grow rich working in the age old career of "aquisitions".

It is while they are at work relieving a heavily laden coach of it's gold bullion that disaster strikes, and Mallik becomes obsessed with revenge, setting forth on a trial of descruction that may even include the shaving of the almost famous moustache!

A Heist Too Far is a genuinely amusing fantasy tale that will actually have you laugh out aloud. Never taking itself too seriously there is a really warm and comfortable feeling to the prose, and a very distinctive voice from the author. The novel is very much character led and each of the three main characters are effortlessly brought to life, so easy to like and the camaraderie between then is something I haven't experienced since reading the Icewind Dale trilogy as a teenager (an alarming amount of time ago I might add).

The fantasy setting is used to great effect and the light hearted wordplay and situation based comedy ensures that the story never becomes too serious while the attention to detail and quality of the writing make this book such an effortless joy to read. The action is well scripted and described in great detail while the pace is set just right.

The book itself is pretty long at 586 pages but it doesn't feel as long as it could due to the minimal back story and effective pace. The story itself is fairly standard fantasy fare but this is used effectively to highlight the strong characters and their individual lifestyles.

A Heist Too Far is an exceptional blend of wit, character and humour, highly recommended.
Written on 25th February 2011 by Ant .
You may also like