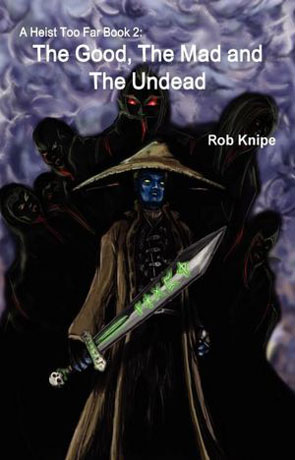 Book details
The Good, The Mad and the Undead

Publisher:

ISBN:

Published:

May 2012

Pages:

408

Format reviewed:

E Book

Review date:

12/12/2012

Language:

English

Age Range:

N/A
About the author
The Good, The Mad and the Undead follows on from the authors previous book A Heist Too Far which we were lucky enough to review last year. Here we are re-united with the dangerous, blue-skinned assassin Mallik who has split up with his comrades Dick and Jules in order to let the heat die down following on from the groups explosive escapades described previously.
After hiding for a very long two months Mallik has got itchy feet, he's just about had enough of trying to stay out of trouble and decides to complete a job he failed over a decade previously. Taking his current compadries Sok and Jack to the island of one Max Von Mähmaschine - powerful Vampire and owner of the scroll he was tasked with "acquiring" - he may find much more than he bargained for.
The author once again manages to capture the readers attention right from the start with an incredibly welcoming and disarming prose that contains a great deal of humour, never taking itself too seriously and yet managing to avoid going so far as to be farcical or silly.
It's a real joy to be re-united with our Blue skinned anti-hero and we get treated to a bit more of the history that cloaks this enigmatic figure. The self-centered and yet caring character is so entertaining as are the hijinks that make up the fast paced plot.
I love the relaxed, easy style to the novel, written in a consumate manner that matches some of the best writers around today it really is a joy to read. The humour is spot on and the whole book feels like that cool group that you would die to be a part of. The story is inventive and manages to keep the reader on their toes without taxing the old grey matter too much. It's also a very fast read, partly due to the easy reading style - I managed to read the whole thing in two sittings.
The Good, The Mad and the Undead is just a great deal of fun, a rip-roaring fantasy adventure that keeps you hooked from beginning to end.
Written on 12th December 2012 by Ant .
You may also like