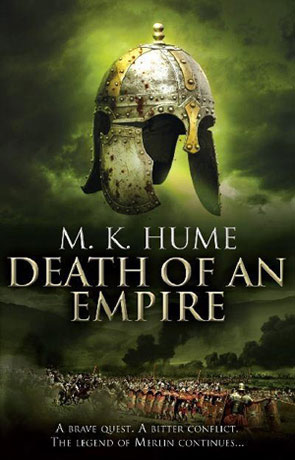 Book details
Death of an Empire

Series:

Merlin Series

Publisher:

ISBN:

9780755371464

Published:

January 2012

Pages:

560

Format reviewed:

Hardback

Review date:

12/04/2012

Language:

English

Age Range:

N/A
Books in the series
I have always loved the Arthurian legend, there is something quite special about King Arthur, the Knights of Camelot and of course Merlin, by far my favourite character from the stories. One of my favourite cartoons is still the Disney classic "the Sword in the Stone" and I always look forward to reading new interpretations on this vintage story.

Death of an Empire is the second volume in MK Hume's "Merlin" series which details Merlin's life from birth (known here as Myrddion) and in this volume we find him travelling across the slowly decaying Roman Empire in search of his father, a voyage of discovery to understand just who he was. Eventually Myrddion becomes embroiled in Attila the Hun's invasion of Europe at the Battle of the Catalaunian Plain.

Serving under the General Flavius Aetius he becomes a man of great renown, saving the lives of thousands of warriors. When he finally reaches Rome he heals many more, including Cleoxenes, Envoy to Emperor Theodosius of the East (on his way to a delegation with Attila the Hun). But a far deadlier conflict between Emperor Valentinian and Senator Petronius Maximus is still on the horizon and Myrddion must use all his strength to carry out his work in a world that is evil.

If I had to choose just one word to describe this novel there would be no other choice than "immersive", there has clearly been a serious amount of research carried out by the author and it shows, combined with the descriptive prose and imaginative story the book really does suck you right in from almost the very start. There is a heck of a lot going on through the 560 odd pages of the book and the story really does feel like you are taking part in an epic tale as Merlin travels through the Roman Empire.

The author does a great job of mixing the rich history with established Arthurian legend and the fresh take on the figure of Merlin not only works remarkably well but helps to blend the real with the fables. The battle scenes are handled very effectively and manage to add a degree of tension and a good level of excitement without going over the top or becoming too graphic. The author employs a very effective form of narration to the main fight and this not only adds an extra dimension but almost makes you feel like you are right there hearing about what happened.

The plot itself is imaginative, dynamic and works very well although the pace did feel a little uneven at times, but to be honest that is to be expected in a novel that goes for such an epic voyage.

Death of an Empire is a very fine novel with pellucid prose, a wonderfully rich tale and a refreshing take on an old legend that manages to blend history and myth together into a rewarding story. Recommended for any fan of Historical fiction or Arthurian Legend.
Written on 12th April 2012 by Ant .
You may also like