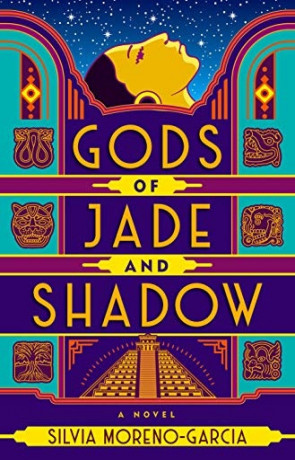 Book details
Gods of Jade and Shadow

Author:

Silvia Moreno-Garcia

Publisher:

ISBN:

9781529402636

Published:

August 2019

Pages:

335

Format reviewed:

Paperback

Review date:

04/07/2019

Language:

English
About the author
Religion is a tricky thing, a lot of people think they have picked the right one. Some believe in one God, but many people have several. The Mayans had some deities you would not want to meet in a dark alley as they prey on humans from the underworld. Meeting one of these Gods would be scary, but if you lived a life of servility that was going nowhere, what have you to lose? You may as well go on one last big adventure as it is surely going to be a big one.
Casiopea Tun lives in 1920s Mexico, a country that is starting to stretch its legs into the Jazz Age, but that his not her existence. Instead she lives in servitude to her grandfather as punishment for her mother's mistakes. When she stumbles across her Grandfather's hidden chest she decides to open it and in the process cuts herself. What she finds are some old bones that begin to rise, her life blood has given succour to the captured Mayan God of Death. She now finds herself bound to the former Lord of Death and he wants his old job back again.
Science Fiction and Fantasy can take many different guises and it is great to stumble across something a little different. You may have read about Small Gods or Good Omens, but Gods of Jade and Shadow by Silvia Moreno-Garcia is not a sideways look at religion. Instead it takes an earnest approach about what would happen should the Mayan Gods be real and live hidden among us. The setting of Mexico gives the book an added alien quality, only intensified by the 1920s setting.
Moreno-Garcia uses very poetical language throughout and is able to paint a very vivid image of a time and place. The start of many chapters feel like mini picture postcards of Mexico. Overly descriptive sections are not normally of interest to me, but here they are done so well that they were a joy to read. They also has a purpose as they help to flesh out a time and place that many readers will not be that aware of.
The central story itself has a slightly naïve quality to it as the sheltered peasant girl starts to have feelings for someone who is the God of Death – who in turn is starting to turn more human. The relationship evolves slowly and does not feel forced. You cannot help but want things to work, even if one of them is practically Death.
There is not a huge amount of action to be found in Gods, but the narrative does have a pace. The protagonists are forced to move through Mexico quickly if the God of Death is going to reclaim his crown. The book is more about relationships; between the potential lovers, but also with their families. A lot of the tension in the book comes from family – twins battling one another or jealous cousins.
Gods has many elements that would not traditionally appeal to me as a more action science fiction fan, but it just works. Moreno-Garcia ability to create a setting means that you just want to read more and find yourself there. There is a fable like quality to the book that makes it a light read even though it deals with death. If you are on the lookout for an alternative fantasy read that offers a story set somewhere new, then this is a great option.
You may also like