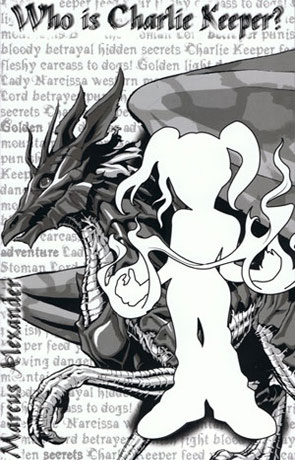 Book details
Who is Charlie Keeper

Publisher:

ISBN:

9780955891205

Published:

July 2008

Pages:

387

Format reviewed:

Paperback

Review date:

18/02/2009

Language:

English

Age Range:

N/A
Who is Charlie Keeper, a young adult fantasy novel written and self published by Marcus Alexander with original Artwork by Lobak Oren. This novel has created such a stir that Graffiti artists, including the Corrupt Government Crew have previously tagged Charlie Keeper inspired characters around London.

Luckily the author has managed to pursued most to stop and in the case of the Corrupt Government Crew, they have agreed to create original pieces of art to help market the book.

There have also been cases of Freerunners, particularly the "Synergy Crew" picking up the fantasy sport of K'Changa and have paid homage to it in YouTube videos.

The Story focuses on a twelve year old unassuming heroine called Charlie Keeper. Charlie lives with her rather senile grandmother in a bizarre and rather large house after the sudden disappearance of her parents seven years ago.

The house itself appears to defy common sense and seems much larger on the inside than out, Charlie frequently explores and still comes across rooms she has never seen before.

With a sinister and brutal family lawyer called Mr Crow, who also happens to be her custodian and the house steward, Charlie has learned to grow up fast - the hard way. After signing away more of her inheritance to Mr Crow one day, she is chased through the house by a huge Monster hell-bent on tearing her apart.

Suddenly Charlie is falling through a door into another dimension called Bellania, a place where Demons, Dragons and other creatures are not just the stuff of legends.

Charlie isn't named Keeper by chance, her heritage and bloodline are the Keepers of the Key to the doorway between the two worlds. A Key that some will go to any lengths to acquire.

The novel is very easy to pick up and read and is thoroughly engaging from the very start with a well excecuted storyline that has a very strong grasp of reality, despite the larger than life bad guys.

Marcus Alexander's use of punctuation and unusual writing style (which reminds me of Darren Shan`s) encourages the reader to bond with the characters and really helps to bring the story to life. Even better, the pace of the book is breathtaking, the style incredible, the artwork superb.

One of the best books I have read this year, and I read a lot...
Written on 18th February 2009 by Ant .
You may also like