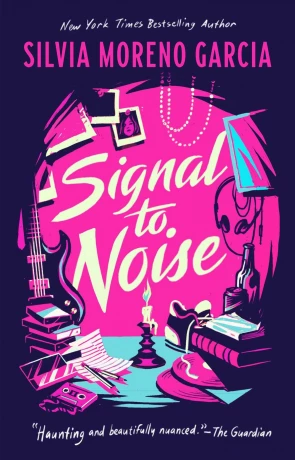 Book details
Signal to Noise

Author:

Silvia Moreno-Garcia

ISBN:

9781786186447

Published:

September 2022

Pages:

352

Format reviewed:

E-Book

Review date:

04/01/2023

Language:

English
About the author
I am not one to look back on my life, preferring to live and enjoy what I have in the present, but when I do it is often about my years at school and University. That person I could have treated better or the time I stood up in assembly by mistake. The events felt at huge at the time, but in retrospect where minor. It is not like I learned to harness the power of magic through song and use my powers to make myself popular or to seek revenge. That I would remember and write down like in Silvia Moreno-Garcia's Signal to Noise.
In late 80s Mexico City, Meche does not fit in with most kids at her school and instead spends her time with two close pals – Sebastian and Daniela. Three of them together. Three is a powerful number. When Meche discovers the ability to harness the power of music, she and her friends decide to use it to better their lot. As anyone who knows, dabbling in magic is a dangerous business and any harm you cause can reflect on you. One school year will have a lasting impact. When Meche returns to the city years later for her father's funeral, the ripples are still being felt.
Signal is a story told from a split narrative, the early 2000s Meche and her younger self. The book does not jump straight into the world of wicker, but like in all Moreno-Garcia stories, focuses on character first. This is a novel all about Meche and her friends, their actions will stay with them for decades. We do not know at first what those actions are, and the author does a fantastic job of hinting in the 00s that something is not right and then bouncing back to the 80s to reveal a little more. In this way we learn as much about the present as we do the past and it informs the next part of the story.
The use of characters in their mid-teens means that the book is heavy on the introversion and angst. I felt that way as a teenager myself and I was not that much trouble. Meche has issues, so does Sebastian. Even the naïve Daniela has plenty of her own issues to work through. This gives elements of the book a teen feel, but it is balanced with the adult sections. The older Meche has a more mature attitude to life but is still messed up. I would say that out of all the author's output I have read, this does feel the most teen, but that is because the characters are that age. The story itself works for adults and mature teens alike.
Those who have seen The Craft or Charmed will get some of the same vibes from Signal, but it is more developed and mature than this. Moreno-Garcia's sense of time and place is magnificent. It feels like a school in 80s Mexico City and not some generic US High School. The characters are, as usual for the author, brilliantly realised. This story is a re-release and was the author's debut novel. I do think that Moreno-Garcia has developed skill since this outing, but Signal is still an enjoyable read. Necessary for fans of the author who wants more of their work and missed this book on first release.
You may also like