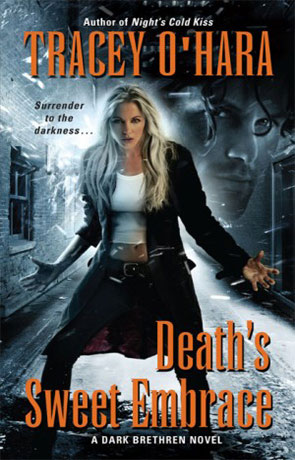 Book details
Deaths Sweet Embrace

Publisher:

ISBN:

9780061783142

Published:

January 2011

Pages:

336

Format reviewed:

Paperback

Review date:

10/06/2011

Language:

English

Age Range:

N/A
There have been thousands of years of conflict between humans and parahumans, a war that's been happening in secret has finally reached an uneasy truce. But now this peace is threatened by the awakening of an unspeakable evil, a sadistic serial killer who is slaughtering teenage shapeshifters and ripping their still beating hearts from their torn bodies.

If peace is to be salvaged a task force must be formed to halt the madness — a union of avengers including the vampiric Aeternus, Christian Laroque and Antoinette Petrescu, as well as Kitt Jordan and Raven Matokwe, members of enemy Animalian tribes…and forbidden lovers.

A blood feud has divided these tribes for centuries, pitting the wolf against the leopard in fights to the death and if their passion is discovered it will doom them both. But past hostilities must be put aside in light of the scourge that is now upon them. For the killer they seek is but the first sign of a blossoming terror rising up from their long-buried pasts: the all-consuming nightmare of The Dark Brethren.

Although this is the first novel I have read by Tracey O'Hara, Deaths Sweet Embrace is the second part of the Dark Brethren series of novels but you don't have to have read the previous volume (Night's Cold Kiss) to appreciate the book, it seems to function fairly well as a novel in it's own right. There are however a number of references to previous events and at times it does make you feel a little excluded, like people have talked about things when you haven't been there. There is also plenty of use of the series own vernacular, which I assume is explained in the first volume to greater effect.

One the whole though it is fine on it's own and I think part of the reason for this is that it apparently focuses on a different character than the previous novel, in Night's Cold Kiss the book centers around the vampire hunter Antoinette and although she is very much present in Deaths Sweet Embrace it's Kitt - the snow leopard shape shifter who was introduced in the first book - who takes center stage here, which puts the readers on an more level playing field.

There is a real depth to the story and a rich, detailed urban fantasy style world which feels very well thought out while the characterisation is handled imaginatively and intelligently. The story itself is both interesting enough to keep the reader engaged while containing enough twists and turns to keep you guessing, with a quite unexpected ending. This murder mystery style plot is both complex and intriguing and works very well within the world the author has created.

There is a little more romance than I personally enjoy in a novel but I do appreciate there are many readers out there that like these elements, even so I did find myself enjoying the journey and caring for the characters. Since the world of Twilight has made itself known there has been a veritable raft of similar works but this does feel different and stands very much in it's own right.

We get to learn a great deal about these shape shifting people, or Animalians as they are collectively known and their very culture which functions as an allegory for the social injustice still present in large parts of the real world.

Death's Sweet Embrace is more a romance novel than a murder mystery or fantasy, which isn't personally my cup of tea, however it's very well constructed with likable characters and an above average plot, perfect for anyone looking for a urban fantasy romance thriller.
Written on 10th June 2011 by Ant .
You may also like