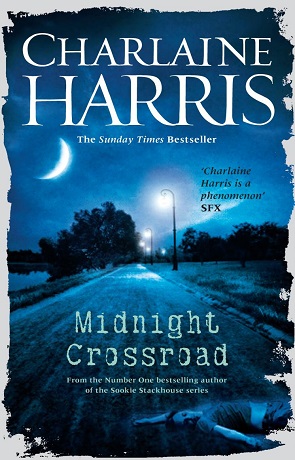 Book details
Midnight Crossroad

Series:

Midnight, Texas

Publisher:

ISBN:

978-0575092846

Published:

May 2014

Pages:

320

Format reviewed:

Hardback

Review date:

07/05/2014

Language:

English

Age Range:

13-
Books in the series
Awards won
About the author
Midnight, Texas is a small town located at the crossroads of Witch Light Road and Davy Road. From an outsiders perspective it looks like a run-of-the-mill, dried-up western town with lots of boarded up buildings and relatively few full-time inhabitants.
There's a Pawnshop, a Diner and general store / fuel station. It's only when you stay a while that you realise that this sleepy town is anything but ordinary.
Midnight Crossroad is the first in a brand new series from Charlaine Harris, creator of the Sookie Stackhouse series and the acclaimed TV series True Blood. While Midnight, Texas is a stand-alone series, those who are familiar with the authors works will be treated to a few people they may have met before.
The story is told from the 3rd person (a departure from her previous works) - primarily from the perspective of Manfred Bernardo who's a stranger to the area who has just moved to the town at the start of the book. Manfred's a psychic who is looking for privacy to carry out his work - which mostly consists of using his instincts and a degree of psychology rather than his "gift" to answer questions sent from people visiting one of his websites.
It's partly through Manfreds eyes that we are introduced to the town of Midnight but we also get treated to a POV from some of the other characters too. Everyone has their own secrets and each is very different, the common element being that they stick together and watch out for each other. I love the way the author manages to slowly build a picture of each person as the book progresses.
The book instantly grabs your attention with the wonderfully nuanced characters and warmly written prose. It's clear from the start that this is an author at the peak of their ability. The book is incredibly well written, comfortable and easy to read. The author manages to built up a picture of the town and it's inhabitants without affecting the pace or plot. It's one of those books that you simply can't put down and just gets better and better as the story builds.
There are so many little touches that set the novel apart too, one of the highlights of the book is the cat - without giving away any details the scenes with Mr Snuggly are simply inspired. Another great touch is the way that supernatural elements are gradually introduced rather than being dumped in from the start.
As with many of the authors works there is an element of mystery not just with the town itself but with the main story too, a clever who-dunnit that I really didn't see coming - with an ending that feels more realsitic (and better for that) than many. It's a book I didn't want to end and would have quite happily picked up the next in the series to keep reading. It's also one that I can simply not rate highly enough, I loved every second.
Midnight Crossroad is a warm, comforting and entertaining read written by a master story-teller; more addictive and more satisfying (not to mention a damn site better for you) than a class A drug*.
We've also been lucky enough to
interview Charlaine Harris
right here on SFBook.
*probably.
Written on 7th May 2014 by Ant .
You may also like