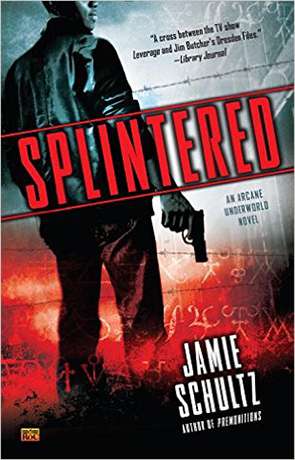 Book details
Splintered

Publisher:

ISBN:

9780451467454

Published:

July 2015

Pages:

352

Format reviewed:

Paperback

Review date:

04/08/2015

Language:

English

Age Range:

15-
About the author
If you like your urban fantasy dark and gruesome with an added touch of horror, Splintered and its predecessor Premonitions are right up your alley. This sequel picks up shortly after the first book, following Anna Ruiz and the rest of the crew. Since the events of the previous novel, Karyn is out of commission and Anna has stepped up to play leader. But Anna's real mission is to help Karyn break free of the premonitions and hallucinations that have cut her off from reality.
Enoch Sobell, however, has other plans for her and the crew. His demands have grown increasingly extreme, and the book opens with their current job: kidnapping. The crew finds themselves in over their heads, tangled in a web of demonic forces and violent fanatics.
Splintered is a fantastic mix of urban fantasy, psychological twists and turns, and horror. I thought that the first book was dark, but its sequel takes dark to a whole new level. Though I enjoyed the heightened gore and grit, I felt that the sequel was missing a lot of what made the first book so unique. I missed Karyn as a narrator, I missed actual heists. The plot had a few of those typical horror movie scenes—the ones where you scream "DON'T GO IN THERE" at the screen—which didn't impress. The novel wasn't quite predictable, but it also didn't engage me like the first one did.
I wavered between giving this book three or four stars. I'd give three stars to plot, which I never got emotionally involved in, and four to characterization. I loved getting to know the characters better and even the new characters that the sequel introduced. The only one who fell short for me was Genevieve—I didn't get much from her and Anna's relationship, and I still don't see what point she served in the novel. We don't really get in her head and we don't know the crazy stuff that she's learning about magic, which is one thing that I want to know MORE about. However, Nail, the crew's muscle and big guns, more than makes up for Gen. We see his soft side, get to know him (and his brother) a lot better, and I loved the parts of the novel from his POV.
Despite the great characterization of the main characters, my favorites were the seriously crazed, cultish, fanatic addict-addled side characters that I could not get enough of. Schultz writes them so darkly that I was sickly fascinated. I wanted more explanation about their origins, although I did love when these characters came into contact with the crew near the end of the novel.
All-in-all, Splintered was a good sequel, but it wasn't a great sequel. I give it four stars, thanks to some fantastic writing and well-done characters.
Written on 4th August 2015 by Vanessa .
You may also like