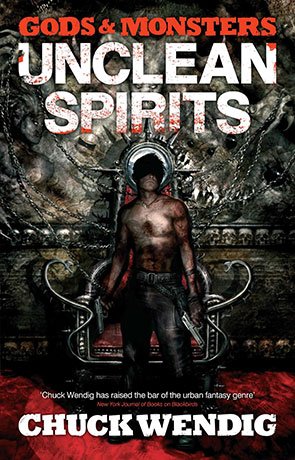 Book details
Gods and Monsters: Unclean Spirits

Series:

Gods and Monsters Series

Publisher:

ISBN:

978-1781080955

Published:

May 2013

Pages:

304

Format reviewed:

E Book

Review date:

30/05/2014

Language:

English

Age Range:

18-
Books in the series
About the author
Unclean Spirits is the first in a new shared-universe series called Gods and Monsters. Gods (and Monsters) are real. In the past this Pantheon were content to keep the world at arms length, sucking up the belief and devotion of mortals to provide them with the power to wage war against each other.
But someone always has to spoil things and a single God sought dominance, as a result Lucifer fell to Hell and the gods fell to Earth. Now these eternal beings walk the land masquerading as humans and weilding a small fraction of the powers they once held. They still manage to fight each other and battle for the hearts of men and they also bring with them monsters and demi-gods, created to serve the gods.
There is a powerful edge to Wendig's writing, a unique voice that stands apart as different as few others do. This voice is dark, gritty, dirty almost - reflecting the harshness of reality amidst the other-worldly fantasy and uncomprimising in it's portrayal of violence, sex and the harsher sides of reality. He also happens to be a superbly talented "pen-monkey", his prose is elegant and rich and absorbing.
The people he writes about are wonderfully flawed and mostly tend to make realistic decisions. Such is the case with the lead character Cason Cole. Like everyone on this planet, Cason has clearly made a few mistakes along the road but also like many he's a good person trying to do the right thing in some bad situations that life has thrown his way. He's also trying to reclaim shadows of his past.
The interplay between Cason and the other characters is excellent (especially that of his friend Tundu) and each play their part perfectly. These well crafted characters extend to the antagonists too, especially the main villain who manages to come across as creepy and a little unhinged. The author manages to draw the reader into Unclean Spirits without lengthy exposition or world-building and yet still manages to give us a taste of this world populated with Gods and Monsters.
The story is entertaining, not only fast, fluid and quite violent in places but quite addictive too. The idea of such powerful beings walking the Earth is cleverly executed and Wendig provides a powerful introduction to the series.
As with all the authors works however it is a book for adult eyes only and as ever he doesn't pull his punches, with graphic descriptions from the very start. If you don't like bad language, sex or violence in the books you read then Chuck Wendig isn't for you.
Unclean Spirits is a great start to a promising series and I can't think of a more talented author to launch a shared universe. It will be intriguing to see where the series takes us next.
Written on 30th May 2014 by Ant .
You may also like