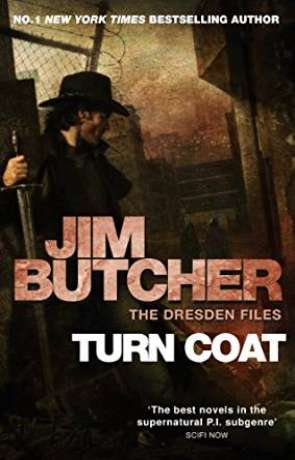 Book details
Turn Coat

Series:

The Dresden Files

Publisher:

ISBN:

978-0356500379

Published:

May 2011

Pages:

464

Format reviewed:

Hardback

Review date:

08/05/2017

Language:

English
Books in the series
About the author
Turn Coat is the eleventh book in Jim Butcher's Dresden Files and as ever, events have a habit of turning against Harry Dresden. This time his help is being sought from the most unlikely of people - Morgan, the warden who has persecuted Harry mercilessly in the past.
Morgan is on the run after being accused of murdering fellow White Council member Aleron LaFortier - and the evidence seems stacked against him. Harry however is convinced that Morgan is innocent (not least as he's a stickler for the rules) and is reluctantly drawn into helping his fellow wizard.
So as any reader of the series will gather, Turn Coat finally puts the focus well and trully on the White (and Black) Council, something that I've been waiting a number of Dresden books for. As such it feels that the over-arching story is also getting a well deserved airing, and a lot of progress is made in Turn Coat. As ever with the Dresden Files this also means lots of new questions are raised. It also feels like the authors setting some big things up for the next book (which is omniously called Changes).
I loved the shifting dynamics of Turn Coat, it's a big, convoluted story with a size-able cast of Fairy, Vampire, Werewolf and a seemingly invincible skinwalker. It also becomes clear that the repercussions of Harry's investigation could have a big effect on the White Council, the Red Court and the war between them, Changes indeed. The story also has a lot more emotional changes for Dresden, not just the usual physical beatings we are used to reading.
Turn Coat also continues to see how the author is growing, each Dresden book is a little more polished than the last and this book is no exception.
I'd not recommend anyone new to the world of Harry Dresden to start here, even though the author goes the usual blurb explaining who and what Harry is and who and what ius friends are (which is the only thing that starts to annoy me about these books) you really need to have read some, if not all, of the previous stories for this book to make any real impression.
Turn Coat is a contender for the best Dresden book yet, the pace never lets up and the momentum builds as the story progresses. The writing is top-notch as is the dry humor - I can't wait to see what Changes brings.
Written on 8th May 2017 by Ant .
You may also like