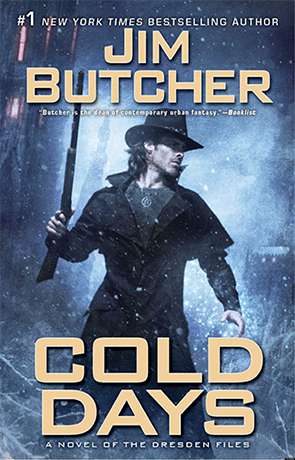 Book details
Cold Days

Series:

The Dresden Files

Publisher:

ISBN:

978-0356500959

Published:

April 2013

Pages:

656

Format reviewed:

Paperback

Review date:

25/08/2015

Language:

English

Age Range:

15-
Books in the series
About the author
Dresden's time as a spirit-on-a-mission in Chicago was a lot more draining then he was prepared for. Waking up from a coma, Harry realizes that his body has been preserved by the guardian spirit, Demon Reach and his new employer, the Queen of Air and Darkness.
Mab, the Fairy Queen of Winter, nurses Dresden back to health with her less than commendable bedside manner. In typical Dresden manner, he faces the danger with a smile and a joke while ably defending himself in nothing but his birthday suit.
Harry's death did not break his deal to assume the Mantel of the Winter Knight, and he is now forced to deal with his new powers and the primal urges of winter that comes with them. Once on his feet, Harry is thrown into the teeth of the Winter Court and forced to dance around the fatal politics of the Fae. Maeve, the Winter Lady and second in the Court, is surrounded by beings filled with hate and malice and she has set her eyes on Dresden.
Harry's life has never been simple – and simple would be only having to deal with one problem. He quickly learns that the sacrifices made to preserve his body now threaten his life, Mab has an impossible mission for him and, of course, dark forces are arrayed against the mortal world. Just another day in the life of Harry Dresden - Wizard, Warden, and Winter Knight!
Wow! This book was amazing! Jim Butcher once again draws the reader in a takes you on an amazing ride. If you are a fan of the Dresden Files, read this book!
It is important to note that Cold Days draws a lot upon the history of the Dresden Files. There are quite a few books in this series that a reader could pick up and dive right in to, but Cold Days definitely isn't one of them. If you want to fully appreciate Cold Days, you should read Summer Knight, Changes and Ghost Story beforehand.
Cold Days has Butcher's signature twists, but amazingly stays away from predictability and clichés. I love how the Dresden Files has so much history. Butcher reaches into Harry Dresden's past and neatly brings old characters into the story to develop a truly excellent plot.
I cannot wait to read Skin Games and do not know what I am going to do when the Dresden Files comes to an end!
Written on 25th August 2015 by Alicia Snell.
You may also like