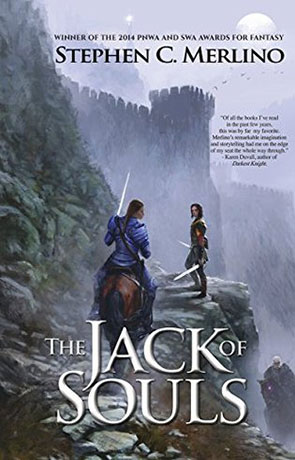 Book details
The Jack of Souls

Publisher:

ISBN:

978-0986267406

Published:

December 2014

Pages:

354

Format reviewed:

Hardback

Review date:

06/05/2015

Language:

English

Age Range:

N/A
The Jack of Souls starts off slow—almost painfully slow. But as the novel unfolds, I was thrilled to discover that the slowness allowed for really great character development. The novel begins with our hero (of sorts) Harric, a bastard and a trickster, who must break his mother's curse or die. He winds up needing the help of Caris, a horse-whispering runaway, and Sir Willard, an ex-immortal with an addiction problem. But how long can Harric keep his mother's curse at bay?
All of his companions have their own troubled pasts that they're struggling to deal with, including the very serious issue that Sir Willard is at war with the Old Ones, an order of insane knights who once enslaved the kingdom. Together, Harric and his companions must overcome armies, sorcerers, and the supernatural.
The character development is my favorite part of The Jack of Souls. Merlino has created some truly fascinating, flawed characters, and they were the biggest reason I kept on reading. Caris, with her horse-touched ways, was my favorite. I loved the relationship between her and Harric, and it was instrumental in what kept me reading and wondering. The ambassador they're traveling with, the witch they stay with (a friend of Caris'), Harric's mother (who's quite a piece of work), it's their story and their development that made me stick with the book.
Despite having amazing characters and a clearly well-thought out plot, The Jack of Souls didn't have nearly as much action as it boasted on the book jacket. It took me a while to read the book, and while I enjoyed it, I wasn't particularly motivated by it, nor did I really think about the book when I wasn't reading it. There were also a lot of unanswered questions in the novel (why is the magic Harric is fighting so horrible? What is up with Willard's backstory? What are the intricacies of the world we're in?). Because of this, and because the novel never crossed from fantasy to epic fantasy for me, I'm giving it three out of five stars. Well-written characters are instrumental to a story, but they don't make a story. The Jack of Souls missed the mark for me, never fully explaining the world and leaving gaps big enough for me to not want to care anymore.
Written on 6th May 2015 by Vanessa .
You may also like