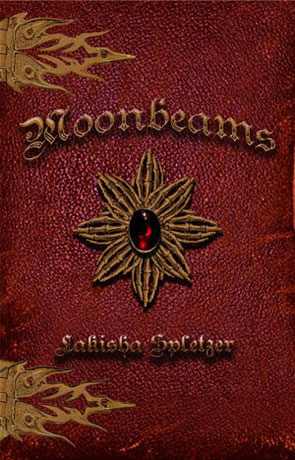 Book details
Moonbeams

Publisher:

ISBN:

Published:

March 2011

Pages:

342

Format reviewed:

E Book

Review date:

20/04/2011

Language:

English

Age Range:

N/A
Moonbeams is an alternative reality fantasy novel by Lakisha Spletzer.

When 3 clueless college students decide on a night out their fate is sealed, finding a strange flickering light on the way they suddenly find themselves in a very different land, populated by fantastic creatures, magical powers and savage beasts.

Rescued from certain death by a warrior princess they find themselves fighting an evil that could destroy the whole dimension.

This is the second alternate reality novel I have read this month, although both are very different stories. Here we have a genuine high fantasy realm with all manner of fantastic beasts and races from fairies, dwarves and elves to trolls, ogres and worse.

Where Moonbeams differ's though is that all these myraid creatures fight on the same side - under the leadership of Shayleah, princess and peacekeeping warrior, fighting against the might of the Trolgres - a strange mutant race both savage and fierce. Thrown into this realm are the three students from our own world and this merger of realities is handled very well, with intelligently created and flaw-filled characters that really come to life on the page.

The story is written in a friendly and easy going style that really appealed to me and there isn't too much back story - just enough to learn the basics which allows the novel to develop a fairly fast pace. There is a real edge to the prose that shows a maturity and real talent for spinning a good tale.

I especially liked the descriptions and characterisations of the none human characters - the half-ogre M'lestrome has to be my favorite. I also liked the way that the outsiders are treated in a more realistic fashion than many novels manage (slightly reminiscent of the Thomas Covenant Series) - they don't suddenly turn into superheroes or mighty warriors and continue to act in a very "earth-like" manner (temper tantrum's and whining included).

There is a lot going on here and you do really have to pay attention, but if you do you will be rewarded with a richly detailed and fast paced story full of action and adventure.
Written on 20th April 2011 by Ant .
You may also like