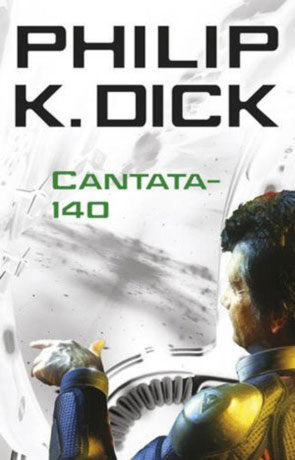 Book details
Cantata 140

Publisher:

ISBN:

9780580000000

Published:

April 2011

Pages:

208

Format reviewed:

Paperback

Review date:

24/04/2011

Language:

English

Age Range:

N/A
About the author
Cantata 140 (also known as "the crack in space") is a science fiction novel by Philip K Dick. The name comes from Bach's Cantata BWV 140 which is also known as "Sleepers, Wake".

The year is 2080 and overpopulation has become such an issue that millions of people have voluntarily become cryogenically frozen until there is sufficient space and resources to cope. Reproduction is also tightly controlled and in this election year Jim Briskin, US Presidential candidate must try and find a solution to this seemingly insoluble problem if he is to have any chance of becoming the very first Black President of the United States.

After ruling out the neighbouring planets in the solar system as habitable, all hope seems lost until a portal is discovered that appears to lead to an uninhabited parallel world.

I have read quite a few Philip K Dick (PKD) stories in the past and he remains one of my favorite authors, his ability to weave big ideas into a captivating story that anyone can follow is nothing short of genius. Cantata 140 is different than any other PKD novel I have read yet - most of his books tend to rely on characterisation and situation, here however the ideas of racsim and overpopulation are woven into a very linear plot - much more so than usual. We still have the everyday man on the street's viewpoint on the matters at hand but there are also a number of science fiction elements at play.

This different style shows the versatility of PKD and makes quite a nice change, the plot is both intriguing and for the most part plausible while the characters are just as well described as ever. Written in 1966, the books main theme of racism can be seen as a snapshot of that era, where "cols" (as anyone of an ethnic background are refered to) are still treated as second class citizens and excluded from many social circles. While this may seem dated in the 21st century and a little out of base as far as future predictions go (we of course have already seen the first black president when Obama got elected) the simple fact is that racism is just as much an issue today as it was 55 years ago.

The story also goes one stage further as we get a glimpse of how those same racist people would treat those of an entirely different race, a powerful message that still resonates today.

We also have the whole parallel universe / alternate world idea and PKD shows the effect this could have on the everyday person along with some possible repercussions for the whole race. The one negative I have is that the conclusion to these events did seem a little short and I feel he could have done a lot more with that part of the book. Being a PKD story though there are plenty of unanswered questions to ponder and many different ways of interpreting much of the dialog.

The character of George Walt (a play on Gestalt?) is also a highlight of the novel, a brilliant idea that works perfectly with the story and I just love the indomitable spirit in spite if the circumstances.

Although not one of his best novel's - which is a bit like saying "That diamond doesn't shine quite as bright" - Cantata 140 is still a great read and different enough to PKD's usual style to warrant a place in anyones collection.
Written on 24th April 2011 by Ant .
You may also like