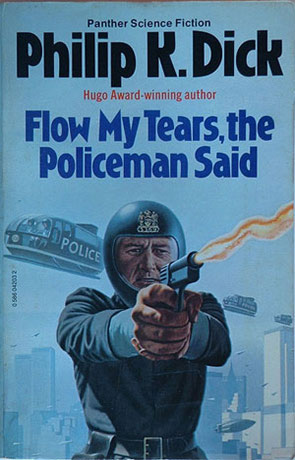 Book details
Flow my tears, the policeman said

Publisher:

ISBN:

Published:

November 1974

Pages:

208

Format reviewed:

Paperback

Review date:

25/04/2010

Language:

English

Age Range:

N/A
Awards won
About the author
Flow my tears, the policeman said is a science fiction novel by the legendary award winning author Philip K Dick, has been nominated for the Nebula and Hugo awards and won the 1975 John W Campbell Award for the best science fiction novel of the year.

Jason Taverner is a TV idol, singer and host and is adored by over 30 million fans world-wide. He is also the result of a top secret government genetic engineering project to create unnaturally bright and beautiful people, 40 years ago. Known as a "six", there were only ever a few of these ever born, and even fewer surviving over 40 years later. After a failed assasination attempt, he wakes to find out all record of him and his fame vanish overnight, with no birth records and seemingly no memory of who he was from his former friends and fans alike. Jason is suddenly a nobody in a police controlled dystopian world where identity is everything, Jason must use all his unnatural talents to not only stay alive but somehow restore his former life.

Originally written in 1974, Flow my tears, the policeman said is set in the then future 1988 United States where a second civil war has led to a collapse of democracy and given rise to a post-totalitarian era where the National Guard (Nats) and the Police force (Pols) control the state through a dictatorship. This originally led to a number of atrocities such as the compulsory sterilization of African American's which resulted in a very sharp decline in their population before the law was eventually reversed. As a consquence their social status has been elevated to the point that someone who does so much as verbally harras an African American can be arrested and face a serious prison term. The former student population are polar opposites and live a hounded and desperate existence constantly under threat by the Nats and the Pols.

There are a lot of the late 1960's and early 1970's events and ideologies used within the novel with the themes of celebrity, genetic enhancement, altered reality, and drug use (drugs have been legalised but cigarettes are rationed to 1 pack a week) interwoven with discussion of the value of love and the meaning of identity. As with many classic science fiction novels that are now essentially set in the past, it's very interesting to see just how different Dick's ideas of a possible 1988 would look and just how different that vision is from reality (flying cars are a good example). As with most authors, this vision is influenced by the actual time it was written but along with a mind that is able to grasp the larger picture. The very strength of these visions and the vivid imagination put forth onto paper turns this novel to an instant classic and one of Philip K Dick's best work.

This is also one of his more literary novels, you can tell that he has gone back over the story time and time again to really make the prose flow. This is something that he doesn't always do and many of his works have that raw accelerated rough edge that gives his novels a very distinctive feel. Flow My Tears hasn't lost that feeling but many of the rough edges have been smoothed and polished.

One of the best novels by one of the best science fiction authors of the 20th century, flow my tears, the policeman said deserves to be a part of every science fiction fan's collection.
Written on 25th April 2010 by Ant .
You may also like