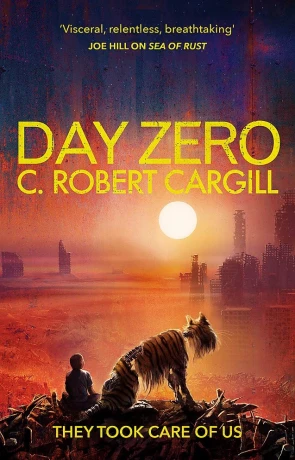 Book details
Day Zero

Publisher:

ISBN:

9781473212817

Published:

May 2021

Pages:

304

Format reviewed:

Paperback

Review date:

20/05/2021

Language:

English
About the author
Asimov's 'Three laws of Robotics' have become synonymous with any book that contains robots. Nearly all these books will not allow their robots to hurt humans, but what happens if these rules broke? In C. Robert Cargill's Day Zero the millions of robots that exist have full artificial intelligence and, in many ways, the only restraint that they have is not to hurt humans. However, rather than being equals, Asimov's simple rules have led to a master/slave relationship. What would your robot cleaner or nanny do if they found themselves with free choice?
The last day ever started like any other. In the future robots and AI have become an everyday thing, designed by humans to help humans. However, over in Isaac-Town the robots have built a city in which they can be free. Liberals are freeing their robots safe in the knowledge that they will not harm any humans, but after a terrorist act these rules are removed. Suddenly the domestic help is free, in seconds they must compute what to do. Stay loyal to their family or kill them before they try to find an off switch?
A lot happens in Day Zero and it happens quick. The book's opening section is all about the day in which the world is flipped on its head. Within 24 hours life will never be the same. The central character is Pounce, a high-end nannybot in the form of a Tiger who has been designed to protect Ezra. When all the world's robots suddenly find themselves free, they realise instantly they are at war. Humans will not allow an AI to live that may turn on them. Pounce decides not to turn on his masters, but instead protects Ezra, but is this his own free choice or his programming?
There are some interesting avenues explored in this book about how Robots would react should they be able to harm humans. It turns out in this case to be extremely visceral. Alongside the intelligent exploration of AI is an action thriller. Once Pounce and Ezra find themselves alone, they must look for safety in a deadly world. There are scenes that will make even hardened gore fans sit up; pile of bodies, or the systematic execution of families.
Most of the action takes place between different robot factions and it is more a case of melted wires than entrails. Cargill writes several fire fights and bottlenecks throughout, and they are awesome to read. As Pounce comes into his own, we are treated to a fearsome action hero, who also happens to be a robotic Tiger. The tension is heightened as Ezra needs protection. The two characters love one another, but whilst one has a titanium core, the other is flesh and blood. It is mostly Ezra who is the target and Cargill paints a world that makes him seem all the more vulnerable.
Day Zero is a prequel to Sea of Rust but can read as a standalone. The book tells a complete story over just a few days and shows how quickly the world as we know it could crumble should the wrong events happen together. Its intelligent science fiction, but also an action thriller. At points my chest tightened. This is a testament to Cargill's character development as the reader goes on this adventure with Pounce and Ezra.
You may also like