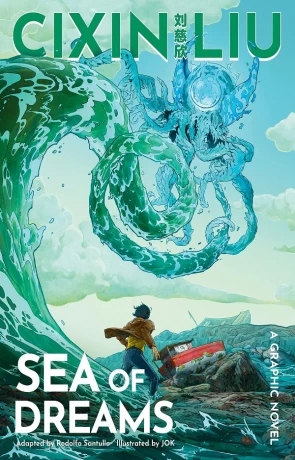 Book details
Sea of Dreams

Publisher:

Ad Astra

ISBN:

9781945863677

Published:

August 2021

Pages:

96

Format reviewed:

Paperback

Review date:

16/08/2021

Language:

English
About the author
I may be biased, but I think that science fiction is the greatest of genres because you can explore so many avenues. I have read many a future dystopian that have explored human's obsession with science or lack of care with climate change. What I have never read is a science fiction book that explores the concept of art. How art effects our culture and what is brings to the wider way we live. In Liu Cixin's Sea of Dreams it is not the military or scientists that could save the Earth, but an Ice Sculptor who is the only person that a strange alien entity will talk to.
The annual Ice and Snow Arts Festival had a strange visitor this year when a low-temperature artist arrived from space. This alien entity dismissed most of the sculptures as primitive, apart from Yan Dong's organic art. Inspired by Dong, the entity begins to create its own masterpiece, the problem being that it plans to use all the water on Earth and move it into space. With the planet's ecosystem at threat the entity will only talk to Dong and only about art. Can Dong convince the space artist to save Earth via an argument centred on art?
This adaptation by Rodolfo Santullo and illustrated by JOK is a graphic novel version of Sea. I have read comics and graphic novels for decades and am aware of the benefits and the challenges they provide. Visually, an artists can capture paragraphs of words in a single frame, but you can also lose the depth of a conversation or concept in the limited space. An adaptation further concentrates this balance as you try to distil the ideas within a book and bring the vision of the author to life. Santullo and JOK do an impressive job in this version of Sea. I have not read the original source novel, but I got a sense of narrative and the arguments came through.
A science fiction book about the concepts behind art sounds a little dry, but it is only part of the story. This is a dystopian tale about a normal man trying to save the planet. There is pressure put on Dong from the international community and you can feel it weighing on the part-time artist's shoulders. The entity itself feels alien, as it should. In too many cases a fictional alien feels too human, this low-temperature artists does not. It has no compassion for the plight of our planet and sees our current form as primitive and not worth a second consideration. You could call it arrogant if it knew what arrogance was.
Dong is also an interesting character. He has all this pressure thrust upon him and he is not a hero from a Hollywood film, he is flawed and a little bit useless. The book does not stop on a cliff-hanger, but continues further than the reader may initial think it would. In the latter part of the book Dong must deal with the consequences of his actions and how people treat him, this is well done.
It is important for any graphical novel that it is appealing to look at the style of JOK works well with Cixin's source material. It feels like it's part of the same world. JOK also does a great job on the huge set pieces in the book. Sea is not just a musing on art, but also has planetwide rocket launches that JOK capture in a few pages. I would think that the source material has a deeper analysis of art's importance in human existence, but the lesser exploration found in this adaptation was right to keep the pacing. Sea of Dreams is an interesting and entertaining graphic novel that poses questions, but also entertains the reader.
You may also like