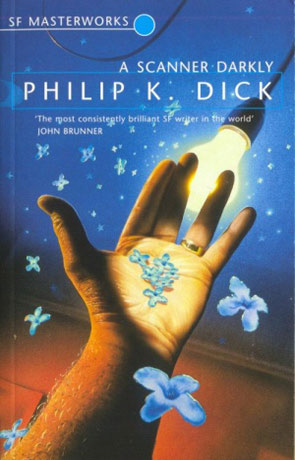 Book details
A Scanner Darkly

Publisher:

ISBN:

9781860000000

Published:

November 1977

Pages:

217

Format reviewed:

Paperback

Review date:

28/09/2011

Language:

English

Age Range:

N/A
About the author
A Scanner Darkly is the only Philip K Dick novel that I have been the slightest bit reluctant to read so far - to say I am not a fan of drugs would be a vast understatement and Scanner is PKD's exploration into drugs. My youngest brother has waxed lyrical on a number of occasions about the novel though and as he shares similar views to me about substance abuse it gave me the confidence to pick the book up, I am glad I did. The title itself refers to a passage in the bible, Corinthians I 13 - "For now we see through a glass, darkly".

The book was originally written in 1973 (the year I was born) as a fictional account based on real events that happened after PKD got mixed up with a group of "street people" and for a time became dependent on amphetamines, almost a sort of semi-autobiography of that period.

Set in a relative future California of 1994, the novel follows the protagonist Bob Arctor who lives a double life as a member of a household of drug-users and also an undercover police officer known as "Agent Fred", set to spy on the very same group of people. While he is posing as a drug user he becomes actually addicted to the drug of choice "Substance D" (known as Slow Death or just Death), a very strong psychoactive drug which does permanent damage to the users brain - destroying the link between the two hemispheres. A bit of a reversal of that famous quote by Isaac Asimov "The observer influences the events he observes by the mere act of observing them" - the observer here is in fact influenced himself by the events he observes.

PKD's trademark everyday characters are present as ever, wonderfully drawn and nonpareil is their human failings and imperfections, no-one breathes life to ordinary, "un-heroic" characters like PKD does and then watches them react to "heroic" situations. When you first start reading the book you think it's going to be about Arctor uncovering drug dealers however this is pretty much a red herring and we quickly delve into the fragmenting mind of an addict.

As you explore the depths of the story it's almost like the literary equivalent of a serious psychedelic trip. As with many of his novels, apart from the "future" setting there aren't really any tropes of the genre used while the technological descriptions are kept to a bare minimum - evoking a timeless feeling.

The messages at play are of course all about drug use and abuse with the paranoia, psychosis, criminality and damage that results, along with a subtle play on split personality disorders. Look closer though and there is also a very subtle subtext running through the novel that is political in nature where the drug becomes an allegory for society itself - the two sides of the brain opposing political viewpoints and the use of the drug the price of freedom in a dystopia, those that opposite it's use fascists seeking to control the populous.

It's an incredibly moving and powerful piece of literature and PKD really throws everything at the characters which leads to a very dark and brooding atmosphere that yet still manages to maintain that dry wit I have come to expect from the author.

The result is a novel of uncompromising intensity, emotive and reflective, a window into a contradistinct culture and a message that still resonates with the same puissance today as it did 37 years ago.
Written on 28th September 2011 by Ant .
You may also like