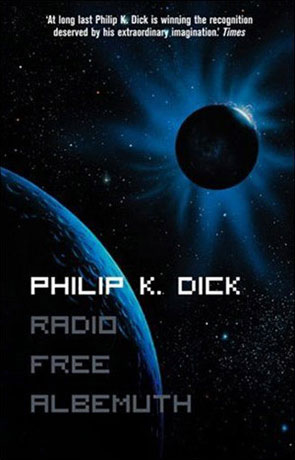 Book details
Radio Free Albemuth

Publisher:

ISBN:

Published:

1985

Pages:

256

Format reviewed:

Paperback

Review date:

04/03/2002

Language:

English

Age Range:

N/A
About the author
Radio Free Albemuth is a science fiction novel by the legendary author Philip K Dick.

Radio Free Albemuth is like Valis but without Horselover Fat. Just Phil Dick and his buddy Nick getting too involved with Valis and the gestapo political system that is sending the commies to work camps. Like MAN IN THE HIGH CASTLE crossed with the feeling of VALIS but with a positive message of love for the universe. Ho hum, I can see the ending from here ----yawn. Wait, the ending was great!! It's not a cliche' of all working out right.

Philip Dick is screwed by the end of the book holding a shovel and ideas for a novel that are really ....bad!!! HA! Read it and see. It's messed up with the whole police state paranoia 1984, who does what crap, and Valis looking down giving out info once in a while to the enlightened follows of christ? the aliens? I loved it because of the ending I suppose.

Parts of this book was more religious flim flam. Out of the 4 maybe Divine Invasion got me the most being so easy to breeze through and the goat character. I think P.K. Dick really exceeds when he's doing short stories more than anything though. Sometimes the tangle of his paranoia and brain really make a good novel though. His suffering is our entertainment.
Written on 4th March 2002 by TC .
You may also like