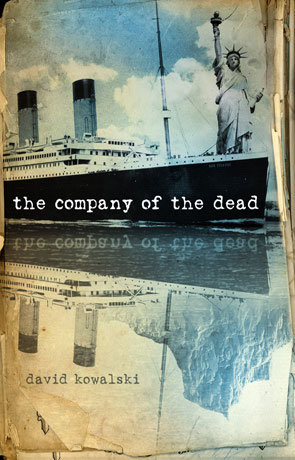 Book details
The Company of the Dead

Publisher:

ISBN:

9780857686664

Published:

March 2012

Pages:

832

Format reviewed:

Paperback

Review date:

23/03/2012

Language:

English

Age Range:

N/A
The 15th April 2012 marks a century after the RMS Titanic (operated by the White Star Line) sank after colliding with an iceberg during her maiden voyage from Southampton to New York. 1517 people died in those freezing waters.

It's as much a lesson in human arrogance as it is in maritime disasters (although it's still seen as one of the worst in history), over 2200 on board with only enough lifeboats for half of those people along with a recklessness borne of a feeling of invincibility, it was even touted as "unsinkable" prior to launch.

The Company of the Dead asks the question, if you could go back in time to try and prevent this disaster would you take the risk? In an alternative world where America is split between the Germans on the East and the Japanese on the West the cold war between those two nations is drawing to a close, the scarred and divided America will be the final battleground in a world distinctly different, yet disturbingly familiar to our own.

Six people have the means to avert the apocalypse. Welcome to the secret history of the 20th Century.

Philip K Dick first wrote of an alternative America that was split between the Germans and the Japanese in his seminal work The Man in the High Castle but the world of The Company of the Dead shares little similarities to that world. Mix in a little time-travel - which splits the story between the present day and the past 100 years previous - along with a rich alternative world and we have a unique tapestry upon with the story is drawn.

The writing is tense, confident and pacy while the story itself is involving and very much action packed with descriptive verse and a real depth. Despite weighing in at over 700 pages the book reads surprisingly easy, helped by the authors talent to spin a good story and the short chapter structure.

The characters that populate this world are incredibly well drawn, rather than recreate the real historical figures the author has gone to the trouble of creating his own people who really do live and breathe their respective parts, weaving around this complex and emotive story. The time travel device is used very effectively, we don't get mired down in over complicated paradox explanations but instead there are elements that are almost fantasy in nature and a leaning towards predestination over free-will.

The Company of the Dead is an intelligent, considered novel with an action-packed story complete with a powerful ending, recommended.
Written on 23rd March 2012 by Ant .
You may also like