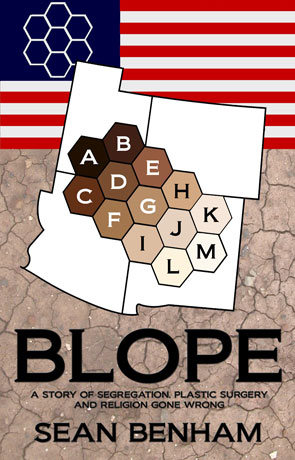 Book details
Blope

Publisher:

ISBN:

Published:

September 2012

Pages:

300

Format reviewed:

Paperback

Review date:

28/06/2013

Language:

English

Age Range:

N/A
Blope is about segregation, plastic surgery gone wrong, and all sorts of messed up religion. For a little background, it is basically another version of history where the American Southwest becomes part of an extreme Taiwanese empire. Its ruler uses the American Southwest as an experiment & segregates it into Prefectures based on skin color. Billy Lopez, the main character, doesn't really appear until a good ways into the book other than a segment at the beginning of the novel.
The characters are well written, established, and developed, and even though the world confusing at first, it picks up quickly. I'm extremely impressed by what Benham has done with Blope. Though the novel is classified as science fiction, I would also describe it as bizarro fiction. Benham writes about the sterilization of the population and other extremely dark subject matter (human life is meaningless, bad things happen to everyone, pornography and plastic surgery have taken over in a brutal way, and much more), and he does it disturbingly well.
I definitely would have liked to understand a little bit more about the religion aspect of it all—one character is the Messiah, the other is something else entirely, but it's never quite followed up on. I wanted more when the book ended; I expected a lot more to be wrapped up in the plot/story/characters, but I just wasn't. There is a lot of religion that is never quite explained, a man named Satan who I am not sure is Satan, powers of the Biblical sort never really explained, and a lot of characters that are widely detailed but only play a very small role.
Despite the well written characters and extremely interesting plot and themes, I never had that moment where I just couldn't put it down. Not to say it was missing something—perhaps it just wasn't quite my style (a little too bizarro). I would definitely recommend it as a great read to some friends whom I know would enjoy it.
Just a small warning: Blope contains a lot of, slightly shocking and very disturbing, adult material. Not for the faint of heart.
Written on 28th June 2013 by Vanessa .
You may also like