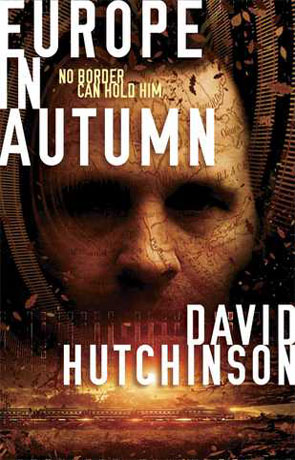 Book details
Europe in Autumn

Publisher:

ISBN:

978-1781081952

Published:

February 2014

Pages:

384

Format reviewed:

E Book

Review date:

07/02/2014

Language:

English

Age Range:

N/A
Awards won
About the author
Europe in Autumn is an alternative history near future story that could be considered Kafkaesque in more than one sense of the word. Its part of new style of novel that mixes European settings with a gritty noir feeling such as seen in those quite brilliant novels Osama and Wolfhound Century.
In Hutchinson's vision of the near future a devastating flu pandemic has swept through the continent and left in its wake a fractured Europe of pocket-sized nations, republics, duchies and polities. We join the story as Rudi - a cook in a Kraków restaurant - is recruited by the secretive "Les Coureurs des Bois" and so begins his life as a "courier" - a network of secret agents who move sensitive items through the many tiny territories. It's a career with no little danger and even while still in training he's caught, beaten and locked up until rescue is attempted. Such begins a career in espionage.
Put simply, Europe in Autumn is an astounding piece of fiction. It's stylish, surreal, sagacious and sophisticated, it draws you into this fractured Europe that bears a chilling resemblance to our own while at the same time introducing you to different cultures and characters whom often seem as recondite as the story itself. It's a wonderfully turbulent plot that seems to go anywhere but in a straight line and yet plays out a rich and complex story that like one of those old magic eye pictures you have to sit and stare at for a while before you can see any shape emerging.
At times it reminded me of the novels mentioned earlier and yes there are hints of Franz Kafka not just in the surrealism but also sharing themes of alienation and bureaucracy - set on a dark stage that hints at casual brutality and corrupt, oppressive regimes. To offset all this gloom are some clever light touches, which combine well with the eloquent prose and results in lifting what otherwise could have been a very dark drama.
I will draw a comparison to PKD's seminal work The Man in the High Castle which I feel is the grand-daddy of this alternate history noir style. Of course the similarities are if anything quite brief, Europe In Autumn draws heavily from a European style (especially Polish) and has a much more dynamic, thriller feel to it and while there is a similar sense of meandering there is also a clearer sense of the plot moving forward (or at times sideways and backwards).
I love how this book makes you feel, it's a little like a feeling of intoxication, that point in inebriation where you are quite happy but in a little bit of a haze - only partly aware of whats actually going on.
What more can I say? Europe in Autumn is exciting, fresh thought-provoking fiction that captures your heart, mind and soul.
Written on 7th February 2014 by Ant .
You may also like