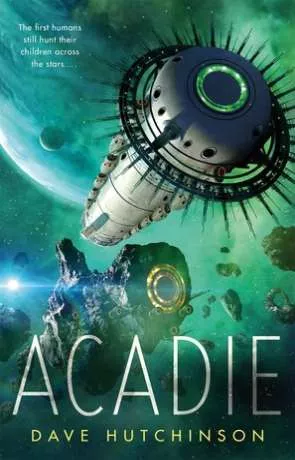 Book details
Acadie

Publisher:

ISBN:

978-0765398260

Published:

October 2017

Pages:

112

Format reviewed:

Paperback

Review date:

30/04/2018

Language:

English
About the author
I've always said that Hutchinson is an under-appreciated author. His Europe series not only being an accomplished trilogy, but also somewhat prophetic given the UK's current realtionship with the EU.
Acadie is a step away from his near-future,alternative fiction series, instead set in the far-future where mankind have reached the stars. This journey hasn't been easy though. A small part of humanity began playing with editing the human genome, led by the visionary Isabel Potter who believed the human body was infinitely - and desirably - hackable. The ruling government (The Bureau) banned such activity, so the Colony was born - a group of people set off to find a new home away from the restrictive contraints of Earth rule.
Settling on a new world, they have spent centuries evolving and adapting into new forms, changed by those known as "the writers". The Bureau didn't give up though and have spent the time looking for them, seemingly bent on their annihilation.
We join the story with John Wayne Faraday (Duke), the president of this new world, waking up on the morning after the morning after his 150th birthday. Dukes role is largely a ceremonial one with very little real power but lots of responsibility - especially when no-one else wants to make the tough choices. One such tough choice is the arrival of a probe that may or may not be sent by The Bureau. The only real decision left is to evacuate.
Acadie is an exceptional novella. The character of Duke makes the ideal protagonist, clever and funny but not without his own failings he helps to draw the reader into this incredible, rewarding story. It might be short - at only 112 pages but my god does it pack a punch. There is no wasted space here, every word, every page moving the plot forward. The story is one that as a science fiction reader you hope to come across but only do once every couple of years or so - its that good. It's left completely unforgettable by the mind-blowing finale - seriously worth reading for the ending alone. The author plays this masterfully, I really didn't see it coming - and I was paying attention!
Arcadie deserved to win many, many awards. It's got a great character in Duke, the writing is wonderful and the ideas magnificent. Proof that good things do indeed come in small parcels.
Written on 30th April 2018 by Ant .
You may also like